There are very few things that exhaust, confuse, and pressure high school students, like preparing for college entrance tests. Sure, other factors like extracurricular activities and your personal statement hold great power over your college result. Still, nothing makes you instantly stand out more in a massive pool of candidates than a stellar test score. Today, we will be exploring the world of the ACT – perhaps the most well-known standardized test alongside the SAT.
In this guide, we'll go through our overall tips for preparing for the ACT, as well as how to choose the best prep course to help you ace the ACT. At the end of the article, you will also find a very useful comparison of our recommended courses to help you make your selection.
ACT, short for American College Testing, is one of the leading college entrance exams in the United States. With around 2 million students taking the test every year. The ACT results are recognized by most universities in the US, in addition to many other prestigious ones around the world. With many universities modifying their admissions requirements due to the COVID-19 pandemic, about 1,750 universities now see the ACT as optional for admissions. However, many of the remaining 1,000 or so four-year colleges in the US still require it – and only a minimal number of institutions altogether disregard ACT scores.
The required part of the ACT is divided into four multiple-choice sections: English, Maths, Reading, and Science. Every correct answer is worth a "raw" score, while wrong answers will not result in any penalty. Then, your "raw" scores will be converted to "scale" ones, which range from 1 to 36. The composite score of the ACT is the average of the scores of the four tests, rounded to the nearest whole number. Moreover, if a candidate chooses to take the optional Writing test, they will also receive the according score. This, however, is not included in the composite score. The test is taken entirely online, although some schools may have the option to administer it on paper.
My Best Tips Preparing for the ACT
More than just an ordinary knowledge test, the ACT is believed to be an accurate measurement of a student's academic ability and readiness for college success. That being said, preparing for the test is not as intimidating as you think! Here are some brief tips from one student to another: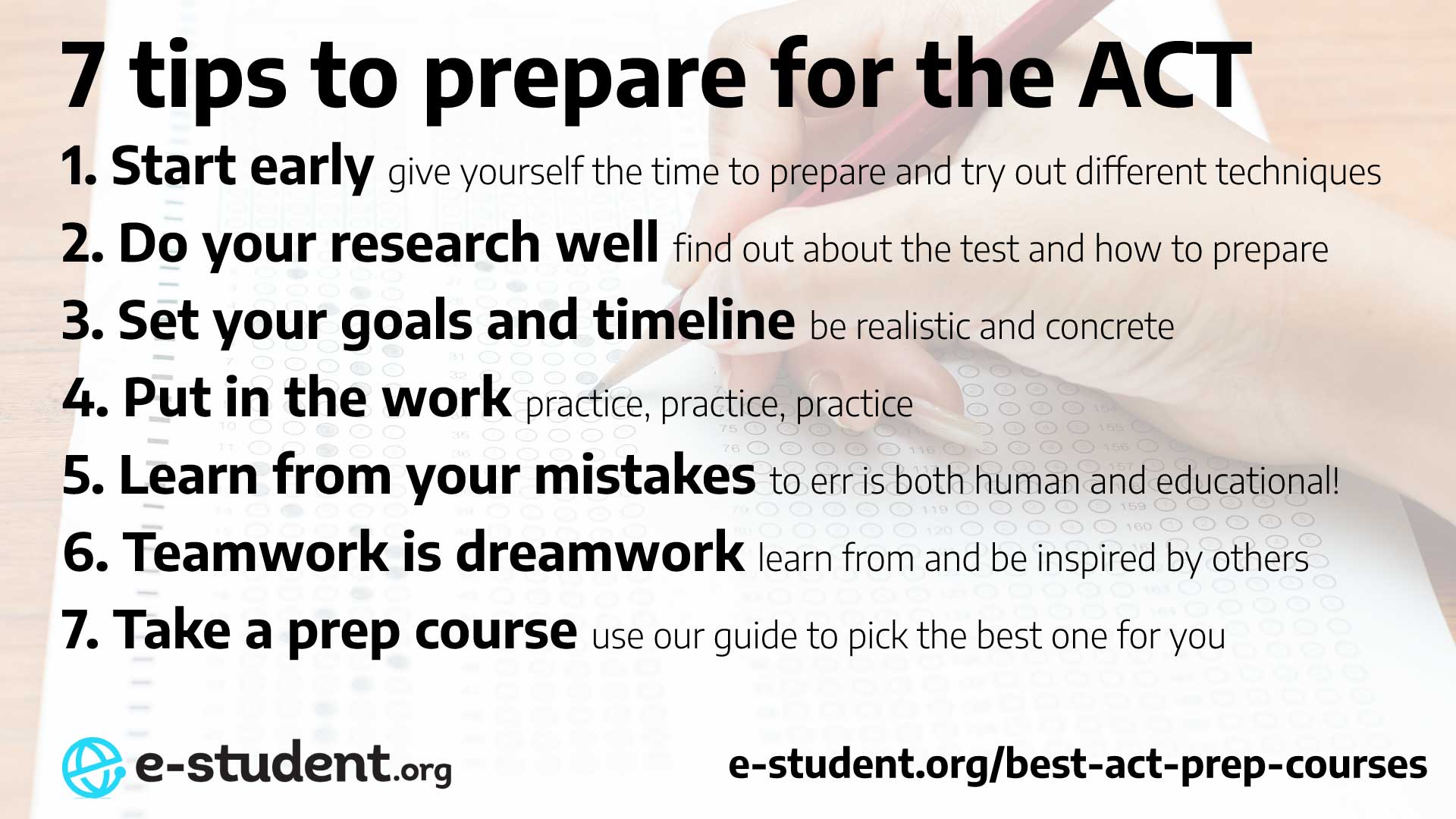 Start early: an early bird catches the worm. Starting as early as possible gives you the much-needed time to get ready to tackle all the tasks ahead. An abundance of time also allows you to try out different study techniques, test-taking strategies, and exam anxiety tips (if needed).
Do your research well: it's never a bad idea to have a good grasp of what to expect in the test, what scores impress colleges, what materials and help you can get, and so on. Ask your teachers, counselor, seniors, and peers for advice, or find the information yourself.
Set your goals and timeline: determine your expectations and build a study schedule around them. You can ask someone who has gone through this process for suggestions. Remember to be realistic and practical; being an overachiever may do more harm than good to your mental and physical health.
Put in the work: if "practice makes perfect" sounds cringey and overused to you, maybe this version will make much more sense: "practice makes progress." As you go through practice tests, you will find out what your strengths are and what you can put some more work on, and probably ease up a little before the actual test date.
Learn from your mistakes: we humans are not perfect and that's okay. Don't stress out too much, instead, see this as an opportunity to better yourself over time. Remembering your past errors is to avoid them in the future.
Teamwork is dreamwork: having a peer or two who encourage or even compete with you (in a friendly way) is a fantastic tactic to set your aspirations and ambitions to a higher level. A small study group saves you time and energy and provides new perspectives that you can take advantage of.
Take a prep course: To improve your score, there are several excellent prep courses available for the ACT, suitable for different learning styles. Choosing the right one can be a bit intimidating, which is why we've put together this list.
Like I've said above, the best way to ace the ACT (and honestly any other exam) is to practice, practice, and practice. Familiarizing yourself with something deemed so dreadful is truly the best way to overcome the fear of it. One of the easiest and most convenient ways to prepare for your upcoming tests is to register for a reliable and effective course. Some criteria you should have in mind when weighing these sources are reputation, cost, the pool of practice tests/questions, the availability of explanations and individual feedback, user-friendliness/user assistance, and additional benefits.
If scrolling through countless websites and blog posts sounds exhausting, this 10-minute-read article will provide virtually everything you need to decide on your best-suited ACT prep course. Below, you will find the overall review, pros and cons, as well as the comparison of recommended resources. Time is money, so let's dive right into my top recommendations.s
Best Overall: The Princeton Review ACT® Prep
40+ years of experience in education services make The Princeton Review a household name in preparation courses for standardized tests in general and the ACT in particular. More than 400 million students all over the world have trusted the company with their college admission journey. Its ACT clients seem to be very content with the service, rating the company an outstanding 4.6 out of 5 stars on Google My Business.
Whether you are a self-studier or need a more in-depth guide to reach your dream score, the company can cater to them all with a vast selection, from 31+ points guaranteed to private tutoring. The pricing is in the middle compared to the other providers. Still, it comes with premium study content: full-length and single-section practice tests, practice questions, live instruction, video lessons, and a personalized study plan. Some features exclusive to the pricier plans are 24/7 on-demand tutors and better score and teacher satisfaction guarantee. The company provides both online and in-person learning, as well as full score reports for every course. Those uncertain can also make use of their free practice tests, events, webinars, and 7-day trial before making the final decision.
Ironically, one of its best features, the abundance and transparency of information, might be its greatest shortcoming for some. Since each course has a different set of content and pricing, it might be overwhelming and confusing for students and parents when doing their research. A simple comparison table would easily solve this inconvenience and make the experience more user-friendly. With that said, I still think The Princeton Review is the best ACT prep provider overall, and its numerous virtues have rightfully earned it the reputation of the leading force of education services.
Best for Independent Prep: Magoosh ACT®
Magoosh is a young and thriving educational technology company based in Berkeley, California. Founded in 2009, Magoosh has come a long way in supporting more than 1.5 million students in standardized testing and college preparation. Its ACT prep course is among the most well-known, with more than 100,000 learners. For just 20 minutes a day, you can start building a consistent and manageable study habit. And during the first 7 days of enrolling in the course, if you are in any way unhappy, Magoosh offers a risk-free refund, no questions asked.
You can experience the 7-day free trial first before deciding between the two plans they offer. The self-paced route will cost you $129 for 12-month access to 1300+ practice questions, up to 4 practice tests, and over 250 video lessons; while the guided study charges $399 for the self-paced content plus 16 hours of live classes. Every question will be accompanied by video and/or text explanations, a huge bonus point to this course. Students with prior testing results will be guaranteed a 4-point increase, and an impressive improvement of 12 points is Magoosh's record. English and Reading sections seem to be its specialties since the majority of past learners sing their praises on the website.
Magoosh is my recommendation for students who are independent and prefer online studying. You can prep at your own pace anywhere with internet access while still having professional help within arm's reach. It is my personal favorite course on our list and provides the best value for most students. On the other hand, I don't think this course is the best choice for those who want more personal tutoring. Magoosh does have 24/7 online expert help and live instruction, but I doubt they are as personalized, intensive, and in-depth as 1-on-1 sessions with experts. It also does not grade your practice essays, but you can email them for further assistance and tips if need be. 
Most Comprehensive: Kaplan ACT®
Special offer for e-student.org learners:
Get 25% off Unlimited Prep for ACT, SAT, AP, and PSAT. Use code FRESHSTART25.
Click here
and use code FRESHSTART25.
"ACT® Prep" is the official ACT course designed by Kaplan and ACT to bring expert teachers and real practice questions to your computer. Kaplan is a veteran in education with more than 80 years of experience that has helped students from 27 countries to achieve their academic and professional goals. Their cooperation with the experts in charge of the ACT further ensures your access to a trusted source of knowledge.
The scope of course material is truly impressive: 30+ lessons, five official practice tests, 2000+ official questions, and much more. If you want a more intensive and rigorous workload, 7+ hours of video lessons and personalized homework are available in the private tutoring option. You can choose to enroll in a self-paced course, live online schedules, or online 1-on-1 tutoring. The prices range from $119 to $4,399, which I personally think is a reasonable investment in your future. If you are still not sure Kaplan is the right fit, why not try out their free ACT sample classes, free half-length tests and pop quiz, or free consultation with a teacher?
With a rating of 4.5/5 from 5,000 reviews on their website, Kaplan has proven to be one of the top choices for ACT prep courses. If you are looking for an authoritative and rich source of education, this program is made for you. However, it is worth noting that they do not have a score guarantee like the others on this list. There is a lack of free trial, and some key information, like individual feedback and essay grading opportunities, is not mentioned (although you can always give the consultants a call to find out if it is included in your specific course choice).
Most Budget-Friendly: Premium ACT® Prep Course (TutorMe Test Prep on Udemy)
Udemy is an online learning and teaching forum with over 773 million course enrollments, ranging from corporate professionals looking to improve job-related skills to students wanting to advance in their studies. "Premium ACT® Prep Course: Improve Your ACT Score" is the bestselling ACT course on Udemy created by TutorMe Test Prep. This is a group of USC and Stanford graduates who provide prep content for more than 9,500 students. This course alone attracts more than 3,000 students with a 4.4/5 rating.
For a one-time charge of $40, you will get lifetime access to 8.5 hours of on-demand and engaging videos, divided into 6 sections and 56 lessons, as well as hundreds of guided practice problems with explanations. The curriculum consists of an introduction to the ACT test, the four required tests, and the optional Writing section. You can also find test-taking strategies analyzed and explained by the experts who made this course. At the end of the course, you will also be granted a certificate of completion.
If you are an auditory learner, an animation lover, or a student on a budget, then this course is made for you. You can have a look at the course preview video and try it out knowing you are eligible to be refunded within 30 days. However, its lower cost means that some essentials are missing. This course is definitely not as intensive and resourceful as other options; there are no practice tests or question banks, no individual feedback or Q&A session, and no score guarantee. I would not recommend this class to students who improve through doing practice tests and questions themselves, or those who aim for top-of-the-scale scores.
Best for Tutoring: Varsity Tutors ACT® Test Prep
Varsity Tutors is a virtual learning platform that offers private and group tutoring, classes, test prep, and virtual learning for all in need. Its founder firmly maintains that reputable access to the right tutor is the only way to achieve effective and satisfactory tutoring. With that in mind, the company pairs highly trained experts with pioneering technology to bring forward customized and accessible educational resources.
As its name suggests, Varsity Tutors offer 1-on-1 or small group tutoring for their ACT test prep. One of its advantages is flexibility: you can choose to meet your tutor online or in person, 1-on-1, or in small groups. Score increase and teacher satisfaction are guaranteed, and the instructors' education, certificate, and expertise are clearly listed on the website. However, very little about the course scope or price can be found online; you will need to fill out an information form or contact its consultants directly via phone to get this information. In the meantime, you can check out its numerous free diagnostic and practice tests, divided into the ACT test sections.
Despite the lack of transparency, Varsity Tutors still seems like a front-runner in test prep and a favorite for many, receiving a 4.9/5 rating with more than 7,000 reviews on their website. If you are interested in requesting a tutor from the company, reading and watching testimonials might give you some insights into how well it works and clear any worries.
Best Question Bank: PrepScholar ACT®
PrepScholar is an education-focused business run by perfect and top ACT scorers. Designed by experienced test-takers, its programs deliver the most effective lesson plans and motivate students for their best results. Rated at 4.95/5 on multiple platforms like Facebook, Thumbtack, and College Confidential, PrepScholar has proven to be a go-to prep provider for many.
The most popular among its students is its "Complete ACT Online Prep". The extent of this program includes 60+ hours of content, 4300+ total practice questions, 70+ skill lessons, up to 6 real practice tests, and all sections (even Writing) of the ACT test. You can get a customized diagnostic quiz at the beginning of the class to target your specific strengths and weaknesses. Each question is accompanied by detailed explanations to learn from your errors and maximize your score. Additionally, PrepScholar provides courses with private tutors, teacher-led classes, 2-year access, or a SAT+ACT dual course. The pricing for these varies from $397 for the most basic one to $995 for the private tutoring option, all of which have a 4-point guarantee and a 5-day trial.
Its most remarkable characteristic is the first-class and extensive study resources, making PrepScholar a top choice for students wanting to improve fast. PrepScholar offers the most expansive bank of practice questions and tests in this list and designs a program that adapts to each individual ability. This means that you are challenged to "level up" without feeling overwhelmed, and after each lesson, your skills are instantly upgraded, just like in a game! Nevertheless, its programs are more expensive than average, and its website lacks some essential information, like the amount of time teacher-led classes or private tutoring last.
Best for Strategy Guidance: Prep Expert ACT®
Prep Expert is an ed-tech company that specializes in online standardized test preparation, including the ACT. Prep Expert gets most of its fame from founder Shaan Patel's appearance on Shark Tank. After his success in winning an investment from billionaire Mark Cuban, the company has developed tremendously and become a prominent force in the test prep business. Prospective students can try out free classes on the ACT, college, and scholarships, and their parents can join live webinars on college admission insight.
There are three general paths that you can enroll in, depending on your needs and demands. Its self-paced video course is worth $699 for 1-year online access. You will find 30 hours of video content focusing on strategies and practice problems. For a more intensive and in-depth route, try the 6-Week Flagship ACT Course for $999. Each week, you will attend two 3-hour classes with an instructor and one 4-hour self-monitored practice test. And if you are already an advanced student who just needs a little brushing up before the actual test, the weekend review is a perfect choice. 12 hours at $499 will grant you answers to any last-minute questions and a chance to revise all topics you need to master before test day. All of its services are followed with a score increase guarantee.
In my opinion, Prep Expert is tailor-made for those aiming to improve and refine their test-taking skills in a short period of time. High-level and intermediate students will benefit the most from enrolling in its programs, while starters might struggle because of its strategy-focused courseload. Its self-paced course is not as helpful and abundant as others, lacking practice questions and tests. Prep Expert, in general doesn't offer as many features as the other options in this list: free trials, personalized study plans, etc.
Peterson's is an American education company that has been dedicated to aiding students in navigating and forwarding their educational path since 1966. Their services include career and college advising tools, financial aid searches, and test preparation. Sign up for its ACT Online Test Prep to obtain the study materials, videos, flashcards, and practice tests essential to master every subject in your upcoming ACT test.
First, you take a pre-assessment to diagnose both your strong and weak points. From that result, Peterson's will personalize your onboarding with 900+ subject-based lessons, flashcards, essay reviews, live online tutoring, and 11 full-length practice tests. Depending on the span of your subscription, you will be charged $39-49 a month; basically, the longer period of time you go in for, the more money you will save, and the more tutoring hours you will get. Furthermore, you can register for its 7-day trial and get its free ACT guide. There are also a lot of resources on college admissions, scholarships, financial aid, etc.
Peterson's ACT course is suitable for independent students who just need some more help to boost their educational journey. The combination of self-study resources and additional help from test prep experts makes the course pretty much all-inclusive. You can even access its enormous test library through its free mobile app anywhere and anytime. However, its credibility can be questioned. One 5-star review from December 2022 is not enough to evaluate its effectiveness and reputation, and I cannot find any other references from its clients. Another thing to note is that Peterson's does not promise a score improvement to its potential students.
Testive SAT/ACT® Tutoring
Testive is a web platform that develops personalized education products in the form of tutoring and academic counseling services. Blending expert tutors and top-notch technology, the company helps students develop the academic skills necessary to succeed in not just standardized tests but also college. Testive delivers to your doorstep private tutoring, whether it is in-home or online, that can maximize your best possible scores on high-stakes tests like the ACT.
Testive has two paths for you to go for: Guided study for $499 a month and Custom tutoring for $250 per hour. Both have thousands of practice questions with personalized explanations, up to 8 practice tests, detailed score reports, test review sessions each month, regular check-ins with your tutor, and personalized answer explanations. The latter, obviously, has some bonus benefits: weekly meetings with tutors, Testive's textbook, instruction on each test section, and additional practice tests. Moreover, there are flex packages that extend to your college application process. These tracks include opportunities to meet up with career and admissions advisors, customized application timelines and strategy planning, personal essay brainstorming and revisions, and extracurricular and resume development. For this, you need to schedule a consultation to find out the fee charged and the discounts available.
Although comprising such engaging study content, Testive is not without flaws. Some of its drawbacks are the higher cost, no testimonials from past learners, no free trials, and no score guarantee. For now, you can only get the tutoring options, but a more cost-effective self-paced one is coming very soon. Testive is ideal for goal-focused students who need a deep emphasis on personal instruction and test strategy review. If you are applying to competitive institutions and need a top ACT score, Testive and its 1-on-1 tutoring services are the most efficient support for you.