Mindvalley is an online learning platform established in 2002 by Vishen Lakhiani. With a whopping 10 million students worldwide, it is among the most successful online learning platforms currently operating. The Mindvalley platform also has more than 1,200 expert instructors from all walks of life.
In addition to having a lot of dedicated learners, Mindvalley can also boast with another remarkable statistic. Their Quests (a term used for Mindvalley courses) have a 333% better completion rate than the industry average. Obviously, this is not down to pure luck.
Mindvalley uses science-based motivators and systems in all their courses. This is to ensure that every single Quest gives tangible real life benefits to the dedicated students.
Unlike most online learning platforms, Mindvalley classes are split into daily fragments. This ensures that Mindvalley students practice on a daily basis and it goes a long way in making the course material stick with you long term.
Who is behind Mindvalley?
Mindvalley is the creation of Vishen Lakhiani, a Malaysian-born entrepreneur.
In 2001, Lakhiani started his career and moved to the legendary Silicon Valley. There, he became an engineer and eventually a senior leader at a successful startup. However, the extremely stressful "work until you collapse" work culture of Silicon Valley led to a personal burnout for Vishen. After this, he took up advanced meditation and embarked on a spiritual self development journey. This journey also ultimately led to the creation of Mindvalley.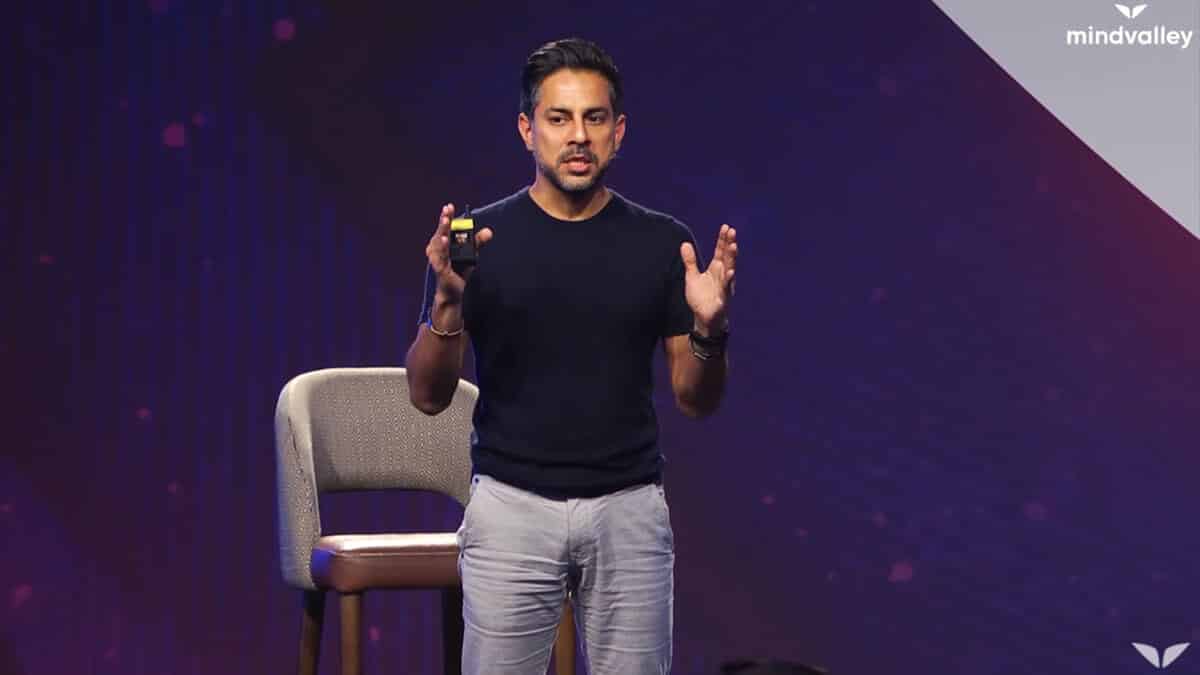 These days, Lakhiani is an activist, a speaker, and an acclaimed author. His book, "The Code of The Extraordinary Mind", is the most acclaimed of his literary works. In 2017, the book took the business world by storm, becoming an Amazon #1 bestseller across all categories, staying at the top spot for five consecutive days.
Vishen Lakhiani has the ultimate life goal of taking the human consciousness to the next level. And, this lofty idea drives him in everything he does. So, whether he is delivering a keynote in Africa or hosting a class on meditation, Lakhiani always has the big picture in mind. This is also why he is often critical of dated education systems and traditional definitions of success.
In broad terms, Mindvalley has a mission of offering an alternative to traditional education. It is the modern pioneer of the so-called transformational education. For those unfamiliar with the term, allow me to give you a quick explanation.
Transformative Learning Theory was developed by Jack Mezirow, an American sociologist. According to Mezirow, transformative learning concerns useful, deep, and constructive learning. This method of studying is known for bringing about shifts in consciousness, or even fundamental changes in one's worldview.
So, instead of only learning a certain fixed skillset, you will also be advancing yourself spiritually. Or, developing your brain plasticity, if you prefer more scientific terms.
Mindvalley pioneers transformational education by offering high-quality online courses, live seminars, mentorship programs, and even spirituality apps.
Now that you have an overview of what Mindvalley is about, let's take a look at how much the courses cost.
How much do Mindvalley courses cost?
Bought individually, Mindvalley online courses cost anywhere from $199 to $499. This price covers:
Lifetime access to all of the course material.
Yearly free upgrades to the course materials.
Bonus materials (the nature of which depends on the class).
Lifetime access to the Mindvalley learner community.
While Mindvalley courses are not the cheapest we've seen, they do contain some of the best-produced and high-quality content out of all the platforms we've tested. And we've evaluated more than a dozen e-learning platforms by now.
But, before purchasing your first course, I would advise getting a taste of Mindvalley by taking one of the free Mindvalley Masterclasses. These 60-90 minute Masterclasses are presented each week and feature transformative ideas from Mindvalley teachers.
Mindvalley Masterclasses are an excellent introduction to Mindvalley courses, as they give you a taste of what you can expect from a full-length course.
Here are some of our favorite free Mindvalley Masterclasses:
After giving these free masterclasses a spin, you'll know exactly whether Mindvalley classes are the right choice for you or not.
If you already have many positive experiences with Mindvalley, I would suggest purchasing an All Access subscription. This service is what we will be looking at next.
What is Mindvalley Membership (previously All Access)?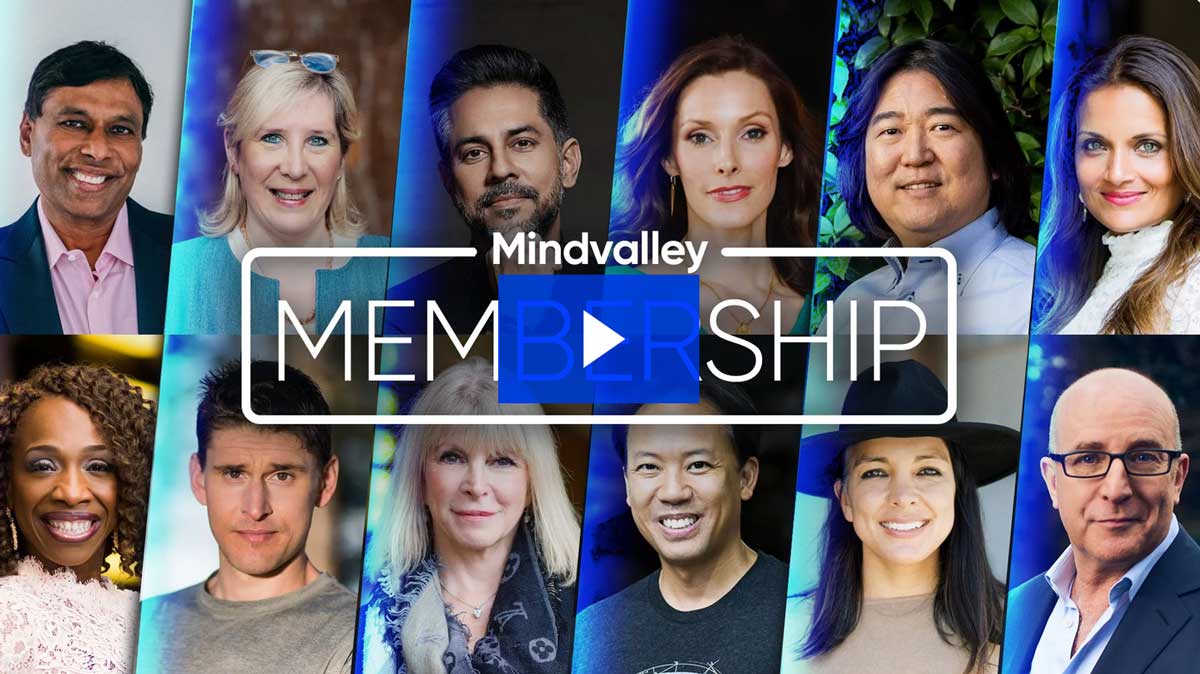 Mindvalley Membership is the subscription service of Mindvalley. With All Access, you can enroll in all the current and future Quests of Mindvalley for a single price. These types of online course subscription services are becoming increasingly popular, with more and more MOOC sites offering them as an alternative to single course purchases.
For anyone interested in any of the courses that cannot be purchased individually (such as Superbrain and Be Extraordinary), Mindvalley membership is the only way you can access them. But also for dedicated learners interested in courses that are still sold individually, the membership subscription plan offers by far the best value-for-money. Let's examine why that is.
A yearly subscription to Mindvalley All Access now costs $499 (the price has been reduced by $100 since we began reviewing Mindvalley back in 2020). If you take three Mindvalley courses within a single year, you've already saved some money by going for the All Access instead of individual course purchases.
Here's what you get when you pay for Mindvalley Membership:
Unlimited access to all Mindvalley Quests.
Coaching sessions with Mindvalley authors.
Access to Mindvalley University.
Printable certificates for Mindvalley courses.
Access to Mindvalley's learning community.
Luckily, Mindvalley also offers a generous no-questions-asked trial period of 15 days. So, potential customers can try the service entirely free of risk. There is a 100% compensation for people not satisfied with the Mindvalley classes. I suggest you give Mindvalley All Access a try if you liked any of Mindvalley's courses.
Mindvalley also offers All Access For Business, a service entirely dedicated to training teams. So, if your company is looking for a performance boost, Mindvalley For Business is an option worthy looking into.
Review of Mindvalley Quests
Mindvalley Quests are split into 8 different categories:
Mind
Performance
Body
Soul
Work
Entrepreneurship
Relationships
Parenting
As you see, Mindvalley offers content on a variety of topics. The courses from Mindvalley are also called Quests.
For those not in the know, Mindvalley Quests follow a different structure than most online courses. The Quests content is spread into daily 10-20 minute bits of reading and video lessons. And, the video and reading lessons are also supported by various tasks.
These tasks are key to your success in this journey. They involve putting everything you learn into practice in real-life. And, since the whole class is based on science, make sure to do the tasks exactly as requested. Do not skip on anything, even if some tasks might seem silly at first. No detail is unimportant if you want to reap the maximum benefits of Mindvalley Quest.
The average daily duration of the lessons, while short, is fully intentional. It is the daily optimal time for fully absorbing entirely new information. Ever wondered why most TEDx talks last approximately 18-minutes? Coincidence? No. Neuroscience? Yes.
You will also see that some of these tasks involve communicating with your "tribe". The Mindvalley Tribe is a shared online community of people following the same course. You are often asked to publicly share the details of your growth. The Tribe will then give you feedback, answer your questions, and provide an overall "support system" for you.
Why is this system important for your progress? You guessed it! Good old neuroscience at work yet again!
While taking Mindvalley Quests, you'll quickly realize that sharing your goals, motivations, progress, and hurdles is one of the keys to automating your brain for high performance.
Recently, we also reviewed the following Mindvalley Quests in-depth:
So, if you'd like to learn more about what it's like to take a Mindvalley Quest as a student, feel free to check out any of these reviews.
Mindvalley offers more than online programs. The dedicated community of Mindvalley also hosts various workshops, seminars, and talks.
Not only will you be meeting spirituality experts face to face, but the events also offer a great opportunity for networking. In fact, the seeds of several startups have been sown at various Mindvalley events.
Next, allow me to give you a quick overview of the most popular Mindvalley events.
Mindvalley University is a 21-day yearly event exclusively for All Access students. Mindvalley University is a global campus of transformative learning. The event will host 50+ self development experts and will have 100+ inspirational talks and workshops.
Mindvalley Live is a 3-day spiritual self-improvement retreat that hosts only 250 attendees. It is also the only bilingual (Russian, English) Mindvalley event and is said to be the most intimate of all their events.
Mindvalley A-Fest is an invite-only Mindvalley event. A-Fest is a 3-day event that will connect inspirational teachers, visionaries, and entrepreneurs. Despite being an exclusive event, everyone has the opportunity to apply for A-Fest.
To give you a taste of what A-Fest is all about here's one of Vishen Lakhiani's talks from Mindvalley A-Fest in Mykonos, Greece:
Mindvalley Mentoring, included in the membership, is a platform offering high-impact coaching from Vishen Lakhiani and his mentors.
At times, you will actually be learning alongside Vishen. This is quite a unique approach to mentoring. One that will give you an intimate view of how a high-performing CEO approaches the act of learning.
Lifebook – a science-based lifestyle design program. As you know, most successful companies have a mission statement. Well, Lifebook will teach you to write a mission statement for your life. This Mindvalley life assessment will give you clarity and focus for reaching all your personal and professional goals. (not included in Mindvalley Membership)
Omvana – a top-selling spirituality app in over 30 countries. Omvana is a collection of guided meditations, personal growth speeches, and even hypnoses.
Soulvana – a collection of in-depth spirituality courses. Soulvana includes courses on meditation, abundance, mindfulness, and spiritual healing. Soulvana also has an All Access service that will let your experience all the current and future content of Soulvana. A yearly subscription currently costs $299.
Wildfit – a special Mindvalley Quest for a healthy lifestyle (not included in the All Access) from Eric Edmeades. Wildfit is an innovative masterclass that will transform your relationship with food and fitness.
Little Humans – a spiritual training program for fresh parents. Little Humans is based on a concept called Transformational Parenting. This practice will help new parents raise their kids to have healthy relationships with both themselves and the world around them. Some of the teachers of Little Humans will already be familiar to fans of Mindvalley. For example, there is an appearance by Jim Kwik, the #1 speed reading expert in the world.
Evercoach –a Quest collection developed for coaches. Evercoach includes masterclasses on coaching methodologies, business training, and effective communication. Evercoach is a solid program for both individual coaches and businesses selling coaching services.
Mindvalley: The Advantages (Pros)
One of the main benefits of Mindvalley is the consistency of their content. Most similar online learning platforms can be hit-or-miss. That is, you will have to do your research before enrolling in a course. Otherwise, you might be spending your hard-earned money on materials of questionable quality.
Mindvalley, however, is a textbook example of "quality over quantity".
They do not offer the sheer amount of courses that some other online learning platforms. But, they make up for it with quality.
All Mindvalley courses come with high production value and are led by industry-leading experts in their fields. This is also one of the prime reasons for Mindvalley Membership offering arguably the best value-for-money collection of online classes.
Mindvalley gets high marks in all 5 characteristics of usability. It is effective, efficient, engaging, error-tolerant, and easy to learn. When it comes to online learning platforms, good usability is arguably as important as the content itself.
And, Mindvalley hits it out of the park with both its mobile and desktop platform.
Very well-structured syllabi
If you have been paying attention, you know that Mindvalley Quests have a very high completion rate. This is due to the scientific methods they use when structuring their courses.
And, I can confidently say that this system works. The daily bite-sized chunks of lessons and tasks will keep you consistently motivated and engaged. And, you will never feel overwhelmed by a large amount of content.
The Tribe system is another major plus. So, when taking a Mindvalley Quest, make sure to always share your progress with the Tribe. You will get all the benefits of working with a team without physically being a part of one. Your Tribe will keep you accountable and will also provide a tremendous motivational boost.
To sum it up, it is very easy to see where the high completion rate of Mindvalley comes from.
Engaged learner community
Of all the online learning platforms I have tested, Mindvalley has by far the best community. All my experiences with people from the Tribe have been great. Throughout my Quests, everyone has been super helpful and supportive. And, we even had a few laughs along the way.
It is no wonder that Mindvalley Events are so popular, this community simply rocks!
Mindvalley: The Disadvantages (Cons)
Relatively small course catalog
"Quality over quanitity" can be a bit of a two-edged sword. On one hand, Mindvalley does not have a course selection as big as, for example, Udemy or Skillshare.
On the other hand, standards Mindvalley has set for their programs are some of the highest in the industry. So, if you DO find a class on a topic of interest, there are no risks involved regarding the quality of content.
Despite that, I would love to see more courses on Mindvalley on a wider range of topics. Looking at their release schedule, though, I'm optimistic.
Mindvalley team has put everything into creating an online learning platform that is a winner on all levels. They offer supreme usability, highly qualified teachers, and an innovative system of learning.
Unfortunately, this also reflects in the price.
It is no secret that, compared to most competitors, the prices of Mindvalley courses tend to be on the higher side. You get what you pay for, but the steep pricing still makes it an unsuitable platform for some students.
Review Conclusion: Is Mindvalley Worth it?
Looks like it's time to wrap up our Mindvalley review.
So, did we tumble down the valley of the mind or climbed out enlightened?
Well, I don't know about enlightenment, but I certainly came out impressed.
Having completed three Mindvalley Quests in full, I can now confidently say that Mindvalley is indeed worth the investment. "The Habit of Ferocity" and "Lifebook Online" have both increased my daily productivity immensely. And, the teachings from "Superbrain" have doubled my learning skills.
But, there is a catch.
As you know, Mindvalley Quests are different from your average online video courses. Every day, these classes will acquire your full commitment. So, you need to do every assignment, engage with your Tribe, and be mentally present at all times. Luckily, the Quests are designed not to overwhelm, so putting your best foot forward will come easy. In fact, you will probably be looking forward to your next lessons and assignments.
Mindvalley also shines in the technical department. Everything is presented in crystal-clear HD, the audio levels are great, and all videos are closed-captioned.
In a nutshell. Mindvalley has fully earned its status as one of the leading online learning platforms. And, I will certainly be embarking on a new Quest in the near future. So, stay tuned!