After receiving a new piece of information, the medial temporal lobe of your brain is usually capable of saving that information in memory for a few days, or even weeks. But, without using methods such as spaced repetition or active recall, your brain will not be able to store that memory for long due to memory trace decay and interference. A process more commonly known as "forgetting".
The rate and speed at which forgetting takes place are often visualized as a curve: the Ebbinghaus forgetting curve. This curve shows an astoundingly steep memory decline in the first 24 hours, followed by a slower decline in the days after that. Initially proposed by Hermann Ebbinghaus in 1885, the existence of this forgetting curve has been confirmed countless times by researchers across different fields. Most recently in 2013, 2015, 2017, and 2021.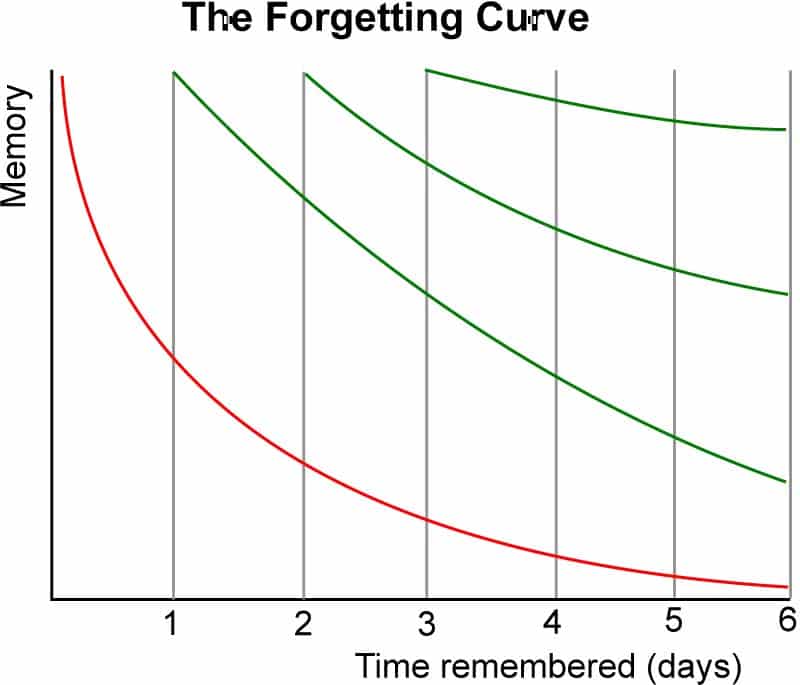 The sheer scale of this forgetting curve is remarkable and combating its effects should be a top priority for any student and educator whether they are in an offline or online learning environment. However, not all forgetting is bad. In fact, forgetting has an important role in human memory in that it leads to a higher rate of retention in the long-term. After all, forgetting bits of information and then recalling them is a much more effective strategy than re-reading the same information multiple times and attempting to "solidify" the knowledge in that way.
That is why in the "How to combat the curve of forgetting" section of this article, I'll be covering tips on how to achieve a delicate state of balance between memorization and forgetting. With these tips, you can turn your forgetfulness into a superpower. In addition to that, I'll be going over the nitty-gritty of the Ebbinghaus forgetting curve: what it is and who's the man behind it.
In this guide, you'll learn: