Back in 2012, the Harvard Business Review called data science "the sexiest job of the 21st century." Not much has changed since then. If anything, the job of a data scientist has grown even hotter. According to a 2019 report by Indeed, there's been an almost 30% increase in demand for data scientists year over year and nearly 350% jump since 2013. 
The demand for data scientists far outstrips supply. A 2018 LinkedIn survey found a shortage of more than 150,000 people with data science skills in the U.S. alone. As many as 50% of data scientists who already have a job get contacted at least once a week about new opportunities. 85% are contacted about once a month. This talent crunch means that, on average, a data science job stays vacant for 45 days. It comes as no surprise, then, that when businesses finally manage to attract data science talent, they pay them well. According to Glassdoor, as of June 2020, the average data scientist salary in the U.S. is $113,309. 
For employment-focused students, studying data science is a no-brainer. But not everyone has thousands of dollars to spare on a data science degree (or the time to do it, for that matter). Online courses offer a cost-effective alternative to degrees and the field of data science benefits largely from e-learning. As long as you can stay the course as a self-paced learner, you can outperform anyone with a traditional degree in data science. That is, if you choose the right online course.
These are the best data science courses you can take online.
Best Data Science Courses
Best Overall: Data Scientist Nanodegree (Udacity)
Special offer for Labor Day:
60% off all Nanodegrees and courses.
Click here
and use code LABORDAY60 (expires 8 September 2023)
This class covers the most important data science concepts such as data manipulation, machine learning, and big data.
Udacity's "Data Scientist Nanodegree" is our pick for the best overall data science course. We like it for many reasons, but what truly sets it apart from the rest is how career-oriented it is. 
In this program, all students are guided through the process of developing their very own data science portfolios through practical real-world student projects. Not only are these projects good for putting theory into practice, but another big benefit of having a demonstrable portfolio of projects is that you can show them to job recruiters. Nowadays, an effective portfolio is just as, if not more effective, than a degree.
As for the skills you'll be learning here, the program aims to teach you how to gather, manipulate, analyze, and visualize data using Python and its packages, such as NumPy, Pandas, and SciPy. The program covers a wide range of data-related topics in its 4-month curriculum, including wrangling, analysis, visualization, and MapReduce.
The classes are taught through video lessons and include quizzes and interesting assignments. For example, after the first lesson, you're asked to use NumPy and Pandas to forecast the passenger survival rate on the Titanic. And the syllabus also covers other important data science concepts such as data manipulation, machine learning, and big data.
The Data Scientist Nanodegree is, without a doubt, a superb course on data science. It covers all the most critical data science topics and even lets you build data science projects from start to finish. It's also worth a mention that Udacity's career services are offered to all Nanodegree students, giving extra value to career-building students.
For these reasons and more, we consider Udacity's Data Scientist Nanodegree to be the #1 best online course for learning data science. If you don't meet the prerequisite knowledge requirements for this course, consider starting with the "Programming for Data Science in Python" Nanodegree from Udacity instead (or if you need R in your work, Udacity also offers a "Programming for Data Science in R" Nanodegree). It's just as good but more beginner-friendly.
Best for Certification: Data Science Specialization (Coursera x Johns Hopkins University)
Free trial:
7-day free trial of Coursera Plus (unlimited access to 7000+ Coursera courses)
Click to try for free
This ten-course program will help you get to the next level in your career if you have experience with Python and some knowledge of regression.
Created by Johns Hopkins University and hosted on Coursera, the "Data Science Specialization" is a ten-course program that covers everything from R programming to reproducible research to machine learning. The program ends with a capstone project, which means that you get a chance to create a data product that can potentially solve a real-world problem. Although this course is suitable for beginners, students should have some programming experience as well as a good knowledge of mathematics.
Course material is taught via video lessons and complementary readings. Your knowledge is tested via quizzes and peer-graded assignments. Students are also expected to do their own research. 
While you can audit the course to see the course material for free, you'll need to sign up for the Specialization if you want to earn a certificate. There's also a free 7-day trial, so you can try the course before you commit to it. After the trial, you'll be charged a monthly fee, so the quicker you complete the course, the cheaper it's going to be. 
All in all, Data Science Specialization is definitely another one of the best online data science courses out there. According to Coursera, almost half of the students that took this course started a new career. And, nearly 20% received a pay increase or promotion.
Best for Beginners: Understanding Data Science (DataCamp)
With hundreds of data science courses on offer, you can go from beginner to advanced learner in no time with DataCamp.
DataCamp offers hundreds of data science online classes for both complete beginners and advanced learners. Examples of popular beginner courses include "Understanding Data Science," which introduces you to data science (no coding involved!), and Introduction to R, which teaches you the basics of data analysis in just four hours. You can take a skill assessment to get course recommendations if you have some knowledge of data science.
While you can take DataCamp courses individually in pretty much any order you choose, many students prefer to take a "Skill Track" or a "Career Track" instead. Whereas skill tracks help you become an expert in a specific technology, domain, or methodology, career tracks make it easier to start a new career in the data science industry. 
Most lessons consist of videos and hands-on coding practices. When you complete a course, you can practice your new skills with DataCamp's numerous projects. Visualizing COVID-19, Exploring 67 Years of LEGO, and Exploring the Bitcoin Cryptocurrency Market are just some of the projects that caught my eye. 
It doesn't matter whether you're a beginner or advanced student, DataCamp has data science (online) training courses that'll suit just about everyone — as long as you learn best by doing and don't want to spend a lot of time learning theory.
Data Science Career Track (Springboard)
Data Science Career Track promises students either a job within 6 months of finishing the program or a refund.
Springboard offers a job guarantee to all its graduates, which means that you won't have to pay for the course until you get a data science job (if you decide to pay upfront, they'll pay you back should you fail to get a job). No other course provider does that. The reason Springboard is so confident its course will help you get hired? Its mentors are world-class data scientists and some of them are hiring managers themselves.
The "Data Science Career Track" includes more than 500 hours of content, one on one mentor support, and 14 real-world projects. The curriculum is divided into 18 units, which cover topics such as Python, machine learning, Hadoop, and SQL, among others. Students complete two capstone projects towards the end of the course, which they can use as part of a portfolio.
Students can expect to complete the course in just 6 months, provided that they spend between 15 and 20 hours a week studying. As soon as students complete the course, they can avail of career support, including one on one mock interviews and access to Springboard's employer network.
Not everyone who applies to this program will get accepted, though. Only students with six months of coding experience and knowledge of probability and statistics stand a chance of getting in.
If you're worried that a data science course won't necessarily help you land a job in the industry, Springboard's Data Science Career Track will put your mind at ease. Out of almost 2,000 students who enrolled in this course since 2016, there's been only one job guarantee refund. As such, it's probably fair to say that the Data Science Career Track is one of the best advanced data science courses on the market.
IBM Data Science Professional Certificate (Coursera x IBM)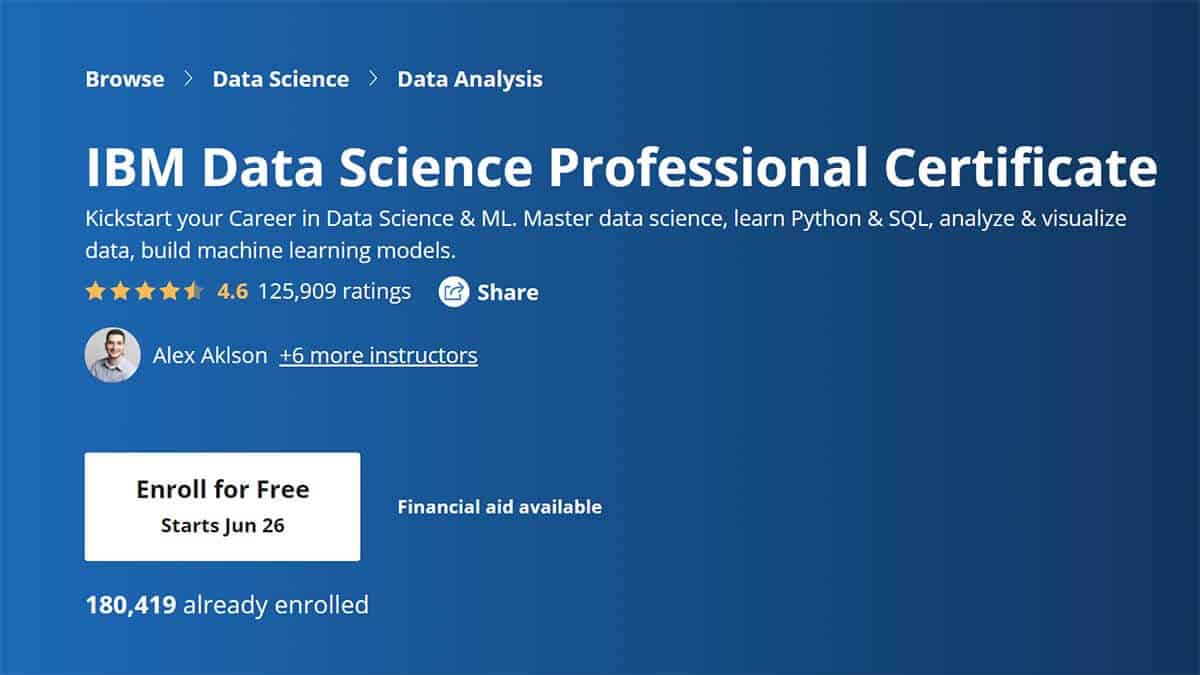 Free trial:
7-day free trial of Coursera Plus (unlimited access to 7000+ Coursera courses)
Click to try for free
A well put together short course that is filled with student projects.
Available on Coursera, IBM's "Data Science Professional Certificate" is suitable even for absolute beginners. In fact, the course, which is divided into nine sub-courses, actually starts by answering "what is data science?" before delving into topics such as open-source tools and libraries, Python, SQL, data analysis, machine learning, and more.
The course places a strong emphasis on hands-on learning. Students practice in the IBM Cloud with real-world data sets and real data science tools.
Since there's a 7-day free trial, you can try the course before you buy it. Coursera says that students can finish the course in about 10 months if they put in 4 hours a week. Once you complete the course, you'll receive a shareable certificate from Coursera as well as a digital badge from IBM, acknowledging your proficiency in data science. In addition, you'll also gain access to IBM's Talent Network, which is great if you've always wanted a job with IBM.
With more than 120,000 ratings, most of which are glowing, the IBM Data Science Professional Certificate course is a popular choice for getting to grips with data science.
Applied Data Science with Python Specialization (Coursera x University of Michigan)
Free trial:
7-day free trial of Coursera Plus (unlimited access to 7000+ Coursera courses)
Click to try for free
Learn data science through Python, one of the most popular languages in the industry.
"Applied Data Science with Python Specialization" on Coursera is a series of five courses that aim to teach you how to use Python for data science applications. Offered by the University of Michigan, the courses cover plotting, charting & data representation, machine learning, text mining, and social network analysis. Each course focuses on free Python libraries like NumPy, SciPy, Pandas, Matplotlib, seaborn, scikit-learn, NLTK, Gensim, and NetworkX.
The courses are easy to follow. The content is taught via video lessons, readings, external tools, discussions, and peer-graded assignments. The word "Applied" in the course title is there for a reason. The course focuses less on theory and more on usage. In other words, you'll learn just enough to understand the homework assignments. If you want to delve deeper, you'll have to self-learn through books and other online content.
The course is marked as intermediate-level, so students are expected to know how to code in Python. They should also have some knowledge of statistics and discrete mathematics. If you dedicate about six hours a week to the course, you can complete it in about five months.
According to a 2018 Cloud Academy Report, there's more demand for data engineers and scientists proficient in Python than any other programming language, including R. As such, this Python data science course can help you get noticed by the industry.
Data Science MicroMasters (edX x UC San Diego)
Special offer from edX:
20% off verified certificates and program bundles (expires 31 August 2023).
Click here
and use the coupon code EDXFRESHSTART.
This MicroMasters by UC San Diego provides deep learning in data science, is recognized by most employers, and can count towards a Master's degree.
"Learn data science by doing data science" with the Data Science MicroMasters offered by the University of California San Diego (UC San Diego) on edX. This course is an online version of the Master's degree program in data science taught at UC San Diego. It explores both the mathematical and the applied side of data science learning. Mathematical courses look at statistics, probability, and machine learning. The applied courses, on the other hand, cover data science toolkits and languages, such as Python, SciPy, Pandas, Numpy, Matplotlib, Apache Spark, and Jupyter Notebook.
The four-course program lasts 10 months. Students are required to dedicate between 9 and 11 hours to the course a week. Each course (Machine Learning Fundamentals, Python for Data Science, Probability and Statistics in Data Science Using Python, and Big Data Analytics Using Spark) takes 10 weeks to complete.
This program was designed with advanced students in mind. To make the most of it, students should have a fairly good level of programming knowledge. Although expensive (the program costs $1,400), this program can count as credit towards a Master's degree program. For example, the Rochester Institute of Technology (RIT) will count the MicroMasters certificate as 30% of its Master of Science degree in Data Science.
You won't regret taking the thorough Data Science MicroMasters by UC San Diego if you're serious about becoming an expert in data science.
Data Science Professional Certificate (edX x HarvardX)
Special offer from edX:
20% off verified certificates and program bundles (expires 31 August 2023).
Click here
and use the coupon code EDXFRESHSTART.
This ten-course program will help you get to the next level in your career if you have experience with Python and some knowledge of regression.
Available on edX, "Data Science Professional Certificate" offered by Harvard University is a comprehensive 9-course program. The program teaches you R programming, visualization, probability, wrangling, machine learning, and more using real-world case studies. The courses are taught by Rafael Irizarry, Harvard's Professor of Biostatistics.
It should take you a year and five months to finish all the courses in this program. However, you don't have to complete all of the courses within a single course run.
Anyone can sign up for this program and start learning. You don't need to have prior computer science knowledge. The program begins with data science fundamentals and ends with a capstone project. The project is a tangible product you can show to potential employers. However, the capstone project isn't the only time students can practice what they've learned. Hands-on coding exercises are plentiful. For example, during the machine learning course, students get to build a movie recommendation system.
If you've always wanted to attend Harvard, now's your chance! Although an online program, the Data Science Professional is great for gaining deep experience in data science.
Data Science Literacy Path (Pluralsight)
Fill the gaps in your data science knowledge with this quick and easy learning path by Pluralsight.
Data Science Literacy Path is a series of data science courses available on Pluralsight. The "path" (Pluralsight's way of referring to a group of related courses) will give you foundational knowledge behind data science, with a strong emphasis on Microsoft Azure. As part of this course, students will learn things like data shaping and munging and the application of basic statistics.
The course is divided into three sections: beginner, intermediate, and advanced. There are eight courses in total, including Representing, Processing, and Preparing Data (beginner), Interpreting Data with Statistical Models (intermediate), and Validating Models in Microsoft Azure (advanced).
Each course is about three hours long. As such, the entire path should take you about 23 hours to complete. The really cool thing about the Data Science Literacy Path is that you don't necessarily have to start at the beginning if you're already familiar with the topic. You can take a Data Science Literacy skill assessment to see what content you should focus on.
Both beginners and advanced learners will love this course. Beginners will love the fact that this path will teach them data science from start to finish. Conversely, advanced learners will appreciate the personalized guidance they receive through the skill assessment.
Data Science Online Bootcamp (Thinkful)
This program comes with a star-studded mentor lineup and a curriculum that outshines most degrees.​
To kick things off, we have Thinkful's Data Science Online Bootcamp. Right off the bat, keep in mind that this program is NOT like your typical Udemy course. The curriculum is much closer to a Master's degree than to the average MOOC. This also means that the admissions process vets applicants more selectively than most other online learning platforms.
Passing the admissions process, while demanding, is a task worth undertaking. That is because all admitted students are met with a one-of-a-kind data science curriculum that has numerous benefits over its competitors. These benefits include:
Biweekly 1-on-1 meetings with expert mentors;
Best-in-class post-graduation career services;
Data science specialization options based on your career goals;
Personal capstone projects that can be showcased to employers.
Before getting into the nitty-gritty of big data analysis, the program introduces new students to the basic concepts of data science through a prep course. This covers an introduction to Python and its packages, probability and statistics, and a quick primer on career planning. After this prep course, the students dive head-first into the core principles of data science, with lessons on SQL, supervised/unsupervised learning, and many, many more. For a first-hand overview of the syllabus, have a look at Brendan Martin's post on the program.
To sum it up, Thinkful's data science program truly is the best of its kind. But, due to its length and stricter-than-average admissions process, it's not a one-size-fits-all type of program. But, we felt it easily deserved the title of THE best data science course on the market.
What is a data science course?
A data science course is any course that goes over important data science concepts. While the content featured in each data science course varies, any good course will teach you how to:
Understand whether data is meaningful (via statistics and probability).

Program in either Python or R (or both)

Use popular packages and workflows in your language of choice.

Write SQL queries.

Use machine learning algorithms and models.

Process large datasets with Hadoop or Apache Spark.

Visualize data with software like Tableau and Matplottlib.
The majority of data science courses include hands-on exercises. These give you room to practice your data science skills and help you consolidate your newfound knowledge. Many data science courses also incorporate a capstone project, which means that you get to build something from scratch, like a new visualization or a data-driven website.
How to learn data science online
Can a total beginner learn data science? Sure, here's how you can learn data science online without any prior knowledge:
1. Enroll in an online course
The easiest way to learn data science online is to take a data science course. However, not all data science courses are the same. Some just skim the surface of data science, whereas others are truly comprehensive.
Also, some data science courses may have prerequisites. For example, Coursera's Data Science Specialization, which we mentioned in our list above, requires students to have at least some Python programming experience and knowledge of regression. On the other hand, Thinkful's Data Science Online Bootcamp has no such requirements and is suitable even for absolute beginners.
As you're learning the practical elements of the curriculum, you'll no doubt come across some of the theory behind the code you're implementing.
The advice that most data scientists give is this: learn the theoretical elements ALONGSIDE the practical aspects, not before. That way, you'll retain more as you learn because you will understand the context of the theory.
Many online data courses go over the theory and provide additional readings and reference material. However, you'll probably also want to do your own research for more advanced coverage of data science concepts.
3. Practice, practice, practice!
As cliche as it sounds, practice really does make perfect.
Don't stop learning when you get to the end of an online data science course. Whether it's a personal data science project or a Kaggle competition (more on these below), find something that motivates you to keep building on your existing data science skills.
Projects are also amazing for immediate feedback on areas that might need improvement. For example, if you're working on a project and get stuck on whatever package you need to use, you know that you should probably study that area further.
Another good thing about competitions and personal data projects is that they allow you to build a data science portfolio. A comprehensive portfolio will show potential employers that you are both competent and passionate about data science.
Below are a few key reasons why you should consider studying data science.
1. We live in a data-driven world
It's true what Joris Toonders said in a 2014 Wired article, data is, indeed, "the new oil of the digital economy." 
Today, almost every company, regardless of how big or small it is, relies on data. Data analytics allows organizations to improve their performance, grow their business, and, ultimately, gain a competitive edge over their peers. 
With at least 59% of enterprises using big data analytics in some form, being able to work with data is an essential skill to have.
2. You'll always have options
Pretty much every industry leverages the power of data. That means that as a data scientist, you can work across different industries and sectors, from healthcare and pharmaceutical to manufacturing and entertainment.
You're not going to be stuck with just one job title and the same responsibilities for the rest of your life, either (unless you want to). 
A data science certification will equip you with important transferable skills, which means that you could end up working as a business intelligence analyst, database manager, or machine learning engineer. 
But that's just a snapshot of what you could do — the possibilities are, literally, quite endless.
3. You'll never be unemployed
Quant Hub reported 37% year-on-year growth in data scientist job listings in 2019. 
Even COVID-19 hasn't stopped the rise of data science jobs. Although growth in job postings for data scientists in the U.S. has slowed, the decline hasn't been nearly as dramatic as that of other occupations. 
Moreover, within the finance and insurance industry, job postings for data scientists and analysts have actually increased since the COVID-19 pandemic started. Talk about job security!
4. You'll make a good wage
As a data scientist, you can make well over six figures a year. 
That being said, the pay varies depending on things like location, skill level, experience, industry, and employer. As an entry-level data scientist, you can expect to make closer to $70,000 — still not bad! 
As a side note, data science also presents perfect freelancing opportunities. As long as you have a good internet connection and enough experience, there's no reason why you can't become a well-paid consultant to major firms around the world.
5. You can change the world
You really can change the world when working in the data science field. 
It's not just about helping businesses make better, more profitable decisions. Data science is also being utilized for the greater good of society. For example, data science can help fight global warming and improve people's lives in the developing world. 
Data science is also paramount in overcoming COVID-19. Without data science, we'd have no idea which factors slow the infection rate and which hasten it or how people are moving during travel restrictions. We'd also be stuck with inefficient contact tracing!
Free online data science resources
Below are some of the most useful data science resources from around the web.
Competitions and problems
Blogs and aggregate sites
KDnuggets.

A site on AI, big data, data mining, data science, analytics, and machine learning. 

Towards Data Science.

A Medium content aggregator of posts related to data science and machine learning.
Python & R
Discussion boards
r/datascience.

A Reddit community where you can discuss all things data science with over 300,000 people.

r/MachineLearning.

A Reddit community where you can talk about machine learning with 1.4 million people.
For more resources, check out this super comprehensive compilation on GitHub and this list by DataQuest.