Once you start studying for the SAT, innumerable prep books will vie for your attention. Many will boast benefits that are monetary or quantity-based ("6 full tests!" or "500 problems!"). It's important to remember, however, that these are not the considerations that contribute to a higher score. You will be better-served by content that is written by experts, strategy tips that are particular to the SAT, and high-quality questions that mirror the style of the real test. After all, what's the use of 500 problems if they're all the wrong ones?
There are a handful of prep books that stand out amidst the crowd in terms of quality, intelligence, precision, and accuracy. That is, their authors are not only good at their subjects (math, grammar, or reading), but they also know the SAT. They have done their due diligence, mapped out questions from all released official College Board SAT exams and created a program of study to address the nuances of each question type. In the ideal test prep world, they have done this so you don't have to. That being the case, this is the main criterion you should look for in a book: The best-written prep books are those that are very transparent about which College Board SAT questions map back to their practice material.
Only use books that are written by top-level SAT experts.
Get extra practice by turning to the free official College Board tests.
Visit the /r/SAT/ subreddit to get advice from other SAT students.
The following are our recommendations of prep books that are precisely calibrated to the skills and content tested on the SAT. These are books written by successful test-takers and skillful tutors who have, over the years, not only honed the art of instruction but also become familiar with how students respond to the granular particulars of this test.
These are our choices for the best SAT prep book.
Best Overall SAT Prep Book: SAT Prep Plus 2023 (Kaplan)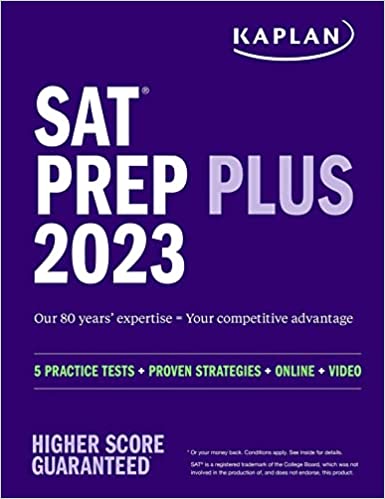 With its strategies and explanations combined with over 1,500 practice questions with detailed explanations, 5 practice tests, and chapter quizzes, the SAT Prep Plus 2023 from Kaplan is our 2022 pick for the best SAT prep book. It combines a physical book with further resources online to provide candidates with a comprehensive approach to increasing their score at the SAT. ​
Best Official SAT Prep Book: "Official SAT Study Guide 2020 Edition" by the College Board
It nearly goes without saying that the book of official tests is absolutely necessary to your SAT prep. Although the pages of this book can be found for free online, we recommend that you work through the chapters in paper form to mimic the conditions of the real test.
It is worth mentioning that there is more to this book than practice exams (though those do account for most of the sheer heft of this tome). The introductory chapters include topic summaries and sample questions that give you an excellent overview–at varying difficulty levels–of the items on each test section. You can consider these sample questions, taken together, as a sort of mini-diagnostic.
If you plan to take the SAT with essay, you can also find sample prompts and graded essays in the College Board book.
Best SAT Reading Prep Book: "The Complete Guide to SAT Reading (3rd edition)" by Erica L. Meltzer
Critical reading practice that closely mimics the style of the SAT is incredibly rare; most books on the market provide reading passages that are roughly based on general reading comprehension exams. Unfortunately, the reading section is also the one in which SAT-like practice content is of paramount importance–you are training yourself to pare down all of your profuse reading and analytical skills to read in a very specific, efficient way for the SAT. Generic reading practice simply will not do.
In my experience, Meltzer's is the only prep book that does a nice job of approximating SAT reading passage style. She has clearly written the practice passages specifically for the SAT, and her multiple-choice is expertly crafted: One can tell she has done her research, as even the wrong answer choices (oft-overlooked) map to specifically measured nuances in the official exams.
The instructional content is also top-notch. Like the other authors in this list, Meltzer includes reading strategy that will directly help you answer SAT questions–no more, no less. This way, you don't have to decide what strategy is worth skimming and what should be read closely. What you are reading is a condensation of the most essential points, all of which are worth imbibing. Meltzer's confidence comes through in her clarity of explanation, and it proves to be well-founded.
Each chapter addresses one reading skill, which Meltzer connects to a particular set of SAT question stems. Explanatory exercises are peppered within the chapter alongside her strategy lessons, and each chapter ends with a set of exercises that address the skill in question.
What this book does not have is full, timed practice sections for you to test your endurance and focus under test-like conditions. Thus, this book should be a precursor to your taking the College Board practice exams.
Best SAT Writing Prep Book: "The Ultimate Guide to SAT Grammar (4th edition)" by Erica L. Meltzer
In this SAT writing prep book, Meltzer's descriptions are clear, her samples sentences helpful, and her grammatical accuracy unimpeachable. In more than a decade of teaching the SAT, I have not come across another print SAT book that has no grammar errors (beyond the stray typo, perhaps). Meltzer's book is exemplary in this regard, as it is in so many others. (In fact, I would go as far as to say that if you encounter grammatical errors in other SAT books and you're not sure which one is right, defer to Meltzer's as the trusted authority).
Each chapter of this book focuses on one grammar topic, arranged in descending order of frequency of appearance on past SAT exams. Meltzer is not only proficient in grammar, but in SAT grammar; she pinpoints the rules that the SAT likes to test and presents these comprehensively and clearly, with clever and instructive sample sentences. She does not weigh the book down with grammatical exigencies that are unlikely to be tested. Dry as the subject matter may be in nature, Meltzer makes her description of rules very easy to follow. Each chapter is followed by a set of relevant exercises.
Unlike Meltzer's Critical Reading book, this one ends with a full timed Writing Section that you can use to assess your progress.
Best SAT Math Prep Book: "PWN the SAT: Math Guide (4th Edition)" by Mike McClenathan
In this SAT math prep book, McClenathan explains all of the topics you need to know in an intuitive, conversational (though ever-intelligent) tone. This doesn't read as dryly as so many math books do, nor does McClenathan delight in the esoteric just for the sake of it; instead, he frames each lesson as a tutor would–narratively. The way he has managed to strip away all extraneous math concepts to focus directly on SAT-like problems is nothing short of impressive.
There are internal questions and drills within each chapter, and each chapter comes with 10 end-of-chapter questions that very closely mimic SAT questions (if you are curious which ones, he includes a table at the end of each chapter describing the College Board questions of each type). In terms of time and symmetry, this book provides a very natural study structure; you might choose to do two chapters a week, for example. The structure of the book also makes it very easy for you to understand which concepts you need more help with. You might consult our article on free online resources if you find you need topic-specific assistance.
Bonus: With the purchase of this print book, you get access to a special section of the PWN site that contains a few supplementary math lessons and practice exercises, as well as a breakdown of question type on each of the 10 released SAT exams (the 4th edition book only addresses up to College Board Test 6).
As is the case with the other books covered in this article, there are no full, timed practice sections in this book. After finishing all of the chapter exercises in this book, you can turn to the College Board tests for section-based practice.
"New SAT Reading: Vice and Virtue in the Exploration of Democracy" by Khalid Khashoggi
This book contains history passages organized in chronological order, separated into chapters based on political era. This can help you contextualize potential SAT passages and become familiar with the writing style of various time periods. Keep in mind that the passages in this book don't seem to flow precisely like SAT passages would (some lack the key "call to action" component), but this practice will certainly help you become comfortable reading dense language.
"2018 SAT Reading: World Literature Practice Book (Advanced Practice)" by Khalid Khashoggi
The questions in this book do not seem to be at the level of other IES books, but the passages are, for the most part, SAT-like excerpts. You can use this book to gain proficiency with reading fiction passages of various styles; and even where you find some questions inaccurate, you might pull out the College Board model and practice writing your own!
"New SAT Reading Practice Book" by Khalid Khashoggi
This book contains full, timed reading practice sections. The difficulty level of some of the tests is slightly lower than the SAT, but this is overall more SAT-like than the reading practice in other prep books.
"The Ultimate Guide to SAT Grammar Workbook (4th edition)" by Erica L. Meltzer
This workbook, to be used after completing the practice content in the Ultimate Guide, contains 6 timed grammar sections. I find the practice tests in this book to be slightly easier than those on the real SAT, but the distribution of question types accurately reflects that in official SAT exams and the questions are high quality. Still, when assessing your progress, adjust your expectations here for a slightly inflated score.
"The College Panda's SAT Writing: Advanced Guide and Workbook" by Nielson Phu
Students tend to find the sample sentences in this book quite amusing (which they are), and therefore memorable (which can be useful). This book does a comprehensive job of covering grammar errors that might appear on the SAT. Certain errors crop up in the writing from time to time and some questions are of better quality than others, but the sheer number of exercises in this book makes it a useful addition if you have exhausted your other materials. Grammar exercises are presented in stand-alone sentence form, in multiple-choice form, and then within SAT passages. This book also contains three timed writing sections.
"PWN Test Prep: Extra SAT Math Practice (Volume 1)" by Mike McClenathan
The organizing principle behind McClenathan's follow-up book speaks to McClenathan's tutor-mindset. After collecting statistics on which "Question-of-the-Day" students miss most often on his website, he compiled the most challenging problems into this supplementary volume. This book does not represent an even distribution of topics, but rather a way to fine-tune areas that commonly invite error.