Most people are well aware of the vast benefits of reading. Whether you are reading a lengthy tome on the economy of 18th century England or an erotic novel, we are not here to judge. No matter your reading habits, reading will immensely benefit the capabilities of your brain. Speed reading has an enormous impact on your learning, memorization, and analytical capabilities.
Yet, when it comes to reading, most people do it at a snail's pace. People who do so often argue that they read for relaxation and that they do not need fast information absorption. My opinion on this is contradictory – in my opinion, slow reading is a waste of time and speed reading multiplies all the benefits of regular reading. And yes, that goes for fiction as well. For example, a good speed reader can go over unpreferred parts of books without losing comprehension. Being able to read faster gives you the opportunity to read more within a shorter time frame, leaving you more time to spend with loved ones or on other activities.

Before we begin our list, allow me to share a TEDx talk by Jordan Harry. In his childhood, Mr. Harry had a speech impediment that drastically affected his reading ability. He set out to solve the problem by consulting with world-leading speed readers. Nowadays, Mr. Harry is a vocal advocate of using speed reading for voracious yet effective learning.
Whatever your reading goal is, speed reading is a great skill to pick up online. And, the earlier you start practicing reading for speed, the more time you will save over your lifetime. Speed reading involves various methods of reading text at very high rates and it helps you to absorb knowledge at an astonishing pace.Speed reading is a superpower – no other way around it.
These are the best speed reading courses currently available.
Best Speed Reading Courses
Best Overall: Super Reading by Jim Kwik (Mindvalley)​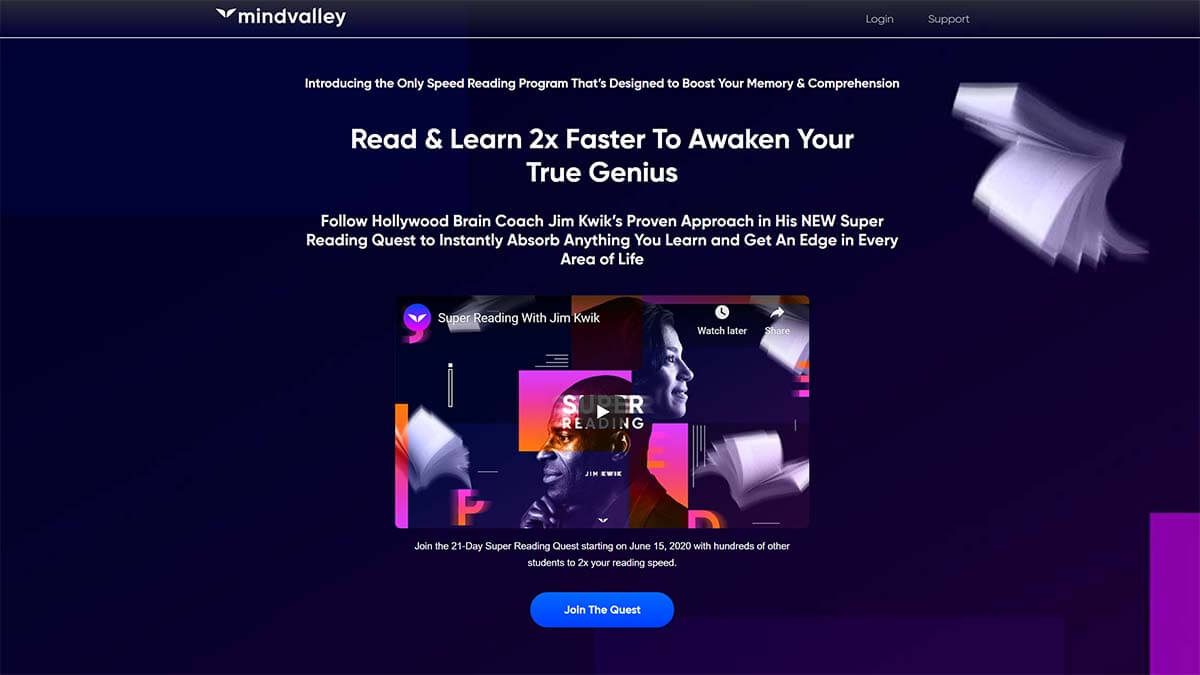 A speed reading class trusted by the business elite.
Of all the courses I have taken over the years, "Super Reading by Jim Kwik" on Mindvalley would be my pick for the best overall speed reading course and it is also one of our picks for best productivity courses. It has all the qualities of a good speed reading course rolled into one, and I'm a big fan of Mindvalley's online courses in general. One particular reason why I love this class is that I'm a huge fan of Jim Kwik, the instructor of this course. He is truly the best at teaching anything related to reading skills and improving comprehension.
Jim's breakthrough came from a personal struggle. After having two severe head injuries, he was left with serious learning difficulties. Despite his struggles, Kwik refused to accept his "disabilities." Laying in a hospital bed, he eventually arrived at his personal eureka moment. He concluded that the universally accepted methods of teaching in the education system are not suited for most people. And after this realization, he devoted himself to discovering new, more optimal techniques of study. These days, Kwik has taught the likes of Elon Musk, Richard Branson, Bill Clinton, and various Hollywood A-listers.
So, what exactly makes this course a favorite of high-performers and beginners alike? Well, this online speed reading course has a number of benefits:
In-depth speed reading, comprehension, and reading techniques for both beginners and experts. You'll likely double or triple your words per minute without sacrificing retention and comprehension.
A well-constructed syllabus that is meant to be completed in daily 20-minute segments.
Lots of production and entertainment value. The videos are superb, and this makes the class easy to follow.
Jim Kwik is clearly passionate about the subject, and it is clear that he has poured his heart and soul into the course.
Learn how to reprogram your brain for fast information absorption while also having a few laughs along the way. What more can you ask?
I could keep going on and on about this course, but I'll stop here. Put simply – if one wishes to master the skill of speed reading, this is the course I would recommend. It is simply the best online resource for learning to speed read currently.
Best Free Course: Speed Reading Mastery: Double Your Reading Speed in 7 Days (Skillshare)​
A superb free speed reading course that maximizes reading speed within a short time frame.
I started this article with an introductory TedX talk by Mr. Jordan Harry, who held a passionate speech on the effects of speed reading practices on his life. Now, let us take a look at a course developed by the man himself. Compared to some other options on this list, "Speed Reading Mastery: Double your Reading Speed in 7 Days" on Skillshare is a short course at 46 minutes, but that doesn't make it any less useful. On the contrary, I would argue that cramming so much value into such a short course is a real feat.
In this online speed reading course, Jordan Harry teaches:
Using visual mapping, goal-setting, and creativity as tools for improving reading speed. These strategies are highly innovative in the world of speed reading.
Improving reading comprehension, techniques, and memory skills to double, triple, or even quadruple your reading words per minute.
The techniques of effective speed readers and their reading habits. In particular, he focuses on the proper mindset and eye movements a good speed reader has to have.
This class flows beautifully from beginner-friendly material to advanced tactics. It is wholly up to the student how and which techniques apply to their situation. As several online reviews have highlighted, the course is also extremely entertaining. Harry has, as they say, a way with words. This makes the syllabus easy to follow, whether the attendee has experience or not.
All in all, this speed reading class is an excellent pick for anyone interested in improving their reading speed in as little time as possible. Despite the number of practices presented, it is great for both students with previous experience and total newcomers.
Most Comprehensive: "Speed Reading Foundation Course" & "Speed Reading Mastery Course" (Iris Reading)
Solid and comprehensive courses for both digital and print fast readers.
While you can purchase the two Iris Reading online lessons separately, you will get most value by investing in both courses: "Speed Reading Foundation Course" and "Speed Reading Mastery Course". The first of the two is for teaching students concrete reading techniques for learning fast. The different lectures are focused on different contexts for speed reading. For example, separate techniques are presented for reading articles, study materials, and books. The course also emphasizes the difference between reading from a digital device or from paper.
The second course offered by Iris Reading is expert-oriented and it's meant for people looking to improve their fast reading skills even further. Students are taken through well-prepared lectures on visualization and information absorption. Here, attendees will learn to use their minds and eyes more efficiently. By doing the practices daily, students will further improve their fast reading and learning capabilities. By the end of this course, you'll be able to read complex papers quickly, efficiently, and your words per minute will skyrocket.
Overall, these Iris Reading classes are another one of my favorite classes for improving memory skills and reading techniques. They are great both for beginners and for people already practicing speed reading. Students can choose the specific sections suited for their needs and easily skip the material they are not interested in. As such, I named it the most comprehensive online course for budding speed readers.
Expert-Backed Course: "Become a SuperLearner® 2: Learn Speed Reading & Boost Memory" (Udemy)
Udemy's top-rated speed reading course from the renowned Jonathan Levi.
The first version of this speed reading course took Udemy by storm, becoming one of the top courses in their history. Self-development enthusiasts, students, and academics showered the course with praise, crediting it with boosting their learning performance tenfold. Well, this is the newer and improved version of the same course. The instructors made several key improvements to the previous course. First off, the clarity and engagement level of the course was vastly improved. Also, the course is now available to attendees with reading and learning disabilities. They are encouraged to contact the instructors before the purchase. Instructors will then optimize the materials to ensure that they will gain the same benefits and value-for-money as other attendees.
So what can students expect to gain from this course?
In approximately two months, students will be treated to an eye-opening course on brain function development. As most speed reading classes, the focus here is on improving fast reading skills while also developing memory. However, what sets this course apart is a strong focus on scientific factors behind the practices taught. This is important because understanding the scientific part further trains the brain to unconsciously apply the skills in real life.
After completion, attendees can expect to read up to three times faster than an average college graduate. The course is not about party tricks and so-called glorified skimming. The exercises and theory in the course are all about teaching students how to optimally gain the most information with as little time sink as possible. For people looking for an in-depth course to accelerate their learning capabilities, this is a great class to take.
Best for Students: Learn Speed Reading Online (Rev It Up Reading)​
A personalized introduction to speed reading delivered by experts.
This speed reading course was developed by Mrs. Abby Marks Beale, the most renowned speed-reading expert in the USA. If you are on the fence about taking the course, there is an entertaining speed-reading test on the homepage. I have always thought of myself as a quick reader but still fell right in the middle of the curve. This is a great illustration of the fact that most people read far slower than they are aware of.
With a total duration of only five hours, this course is great for people who wish to get hold of the basics quickly. For example, if attendees have academic work to read through in a limited amount of time. The nine modules are easy-to-follow and do not need to be taken in a specific order. Taking the course also allows attendees to address Mrs. Beale directly. Students can easily inquire about the fast learning tactics best suited to their needs. Speed reading is mostly about practice, not theory and this course is well aware of it. Attendees are constantly monitored on their progress. Even after completing the course, students will be contacted via e-mail, reminding them of the many benefits of the practice. The inclusion of a free eBook on the subject is also a nice touch to keep students on track after completion. By fully devoting to the materials presented, attendees can expect reading up to three times faster than before.
All in all, this is a course worth looking into. It is informative without being overwhelming. Practical yet entertaining. I would certainly advise the course to everyone who wishes to become more efficient in absorbing and using information.
Best for Memory Strength: 10X Superhuman Learning: Speed Reading & Memory Booster (Udemy)
An inspirational course on maximizing learning skills.
The title of this course is certainly ambitious, even pretentious to an extent. Despite this, it is a surprisingly well-rounded and informative course. The course is designed by the renowned productivity coach Mr. Silviu Marisk. Marisk has dedicated the last few years of his life to improving the learning skills of his followers.
Despite the focus being on speed reading, there is a lot of other useful material in this course. I would even label it as a course on human productivity in general. It is an extensive course with a duration of 7 hours. During the 129 lectures, attendees will be taught the most effective learning and speed reading "hacks". The first lectures are all about giving attendees theory and exercises for absorbing information fast.
As attendees have developed the basic fast reading skills, the course starts to further expand on topics such as memory and focus. Attendees will also be taught how to self-analyze their style of learning. This ensures that newly acquired fast learning skills will go to good use and be applicable in real life. The course is rounded up by two interesting modules on human psychology. To be specific, the students will learn of the common obstacles keeping people from reaching their peak-productivity. Of course, attendees will also be taught how to use their new skillset to stop procrastination for good.
Overall, for people feeling as if they are not making the most out of their abilities, this is a great course to take. Despite the focus being on speed reading and learning fast, it is a great overall course on human psychology and self-development.
Good Free Crash Course: Jim Kwik Masterclass (Mindvalley)
An free introductory course led by a superstar of fast learning.
The course itself is a solid introduction to the teachings of Jim Kwik. The duration of this crash course is about 80 minutes. During this time, Kwik gives the attendees a throughout introduction to his work. Despite having some great practical techniques as well, the course is still mostly theoretical. It focuses on understanding the brain and how it processes information. Students will learn how they have never really questioned their learning style and how they can rewire their brains for learning more effectively. After enrolling, attendees can expect to be more aware of how they process the flood of information they receive daily.
Despite the focus on theory, the presentation of the course is never dry. Kwik is a phenomenal public speaker and the entertainment value of the course alone makes it worth a watch. As a theoretical introduction to speed learning, this is a great course to take. However, when planning to start learning speed reading in-depth, I would supplement this course with another course from this list.
Best for Beginners: "Read Better Faster: Triple Your Speed Reading In Just 7 Days (Skillshare)
An entertaining course for beginners to speed reading.
This Skillshare course is specifically designed to be as beginner-friendly as possible. The instructor has an easy-going and entertaining style of presenting fast learning practices. In the beginning, attendees will be instructed to analyze their current style of reading. They will learn why common readers only absorb about half of the information presented. After students are aware of the visual mistakes they make, the course gets more practical.
Attendees are then presented with tactics to get the most out of their vision span. The trick of speed reading is all about making the most out of the brain and vision link. By practicing tasks presented in the course, learners will improve this vital connection. This is the key to reading fast while also absorbing all the useful information from the materials. All through the course, the instructor also prioritizes being aware of the common mistakes aspiring fast readers make.
By doing this, he proactively encourages the students to keep up with the practice after completing the course.
All in all, this is a course for students looking for an entertaining yet practical introduction to speed reading. Reviewers have highlighted the humorous delivery of the instructor and the large number of habit-forming exercises included in the class. For beginners to speed reading, this course is certainly a worthy investment of time and money.
Do speed reading courses really work?
Taking some of the best speed reading courses can improve reading speed by two, three, or even four times. Therefore, speed reading online courses can certainly work. However, besides speed, it's also important to ensure that you retain comprehension during reading, and many online courses fail at teaching this.
How can I teach myself to read faster?
Taking an online course in speed reading and practicing on a regular basis are the easiest methods of improving reading speed. However, choosing a good online speed reading course is a vital step that should not be rushed.
How long does it take to learn to speed read?
Learning the techniques and strategies for reading quickly can be done in as little as one hour. However, only through regular practice can these techniques be maintained. Therefore, the process of learning to speed read is one that is continuous and long-term.