In the context of a rapidly evolving digital landscape, back-end developers are increasingly vital for ensuring the robust functionality of web applications. The Meta Back-End Developer Professional Certificate on Coursera is an 8-month online program designed to equip individuals with the specialized skills needed in this domain. While the program enjoys the credibility of being backed by Meta, it's also inclusive, accommodating learners of various skill levels. The curriculum covers crucial back-end technologies and adheres to industry best practices. However, those considering enrollment should weigh factors like the program's cost and the time commitment required. Ultimately, this certificate serves as a formal recognition of one's expertise in back-end web development, although it may not fully replace the value of hands-on experience.
If you're aspiring to carve out a career in backend development this year, you might want to consider Meta's specialized Back-End Developer Professional Certificate available on Coursera. This program is not just another set of online courses; it is a comprehensive learning experience backed by Meta, the behemoth company behind Facebook.
Recently, Meta rolled out its much-awaited 'Back-End Developer Professional Certificate' on Coursera. It is designed to be accessible, requiring no prior experience or educational qualifications. In approximately eight months, you can acquire job-ready skills for a career that's in high demand. What sets this program apart? For starters, it's crafted and delivered by seasoned software engineers from Meta, ensuring that you're learning cutting-edge skills that are in high demand in today's job market.
Another important factor to take into account is the exclusive access to Meta's Career Programs job board. This platform links program graduates with over 200 employers actively seeking talent from Meta's graduate pools. Additionally, the program offers resources like coding interview prep and career guidance, which are rarely included in similar courses.
You might be wondering, "Is a Meta certification really worth it, especially if I aim to become a full-stack developer?" The skills you acquire through Coursera are versatile and can be applied across a multitude of projects. Moreover, these certifications serve as a robust foundation for anyone serious about a long-term career in software engineering. Turning to organizations like Meta or Google, who are major employers in the sector and know first-hand what kinds of skills are needed, is a strategically wise move.
So, if you're keen on stepping into the world of software development, this Meta certification on Coursera is an excellent place to start.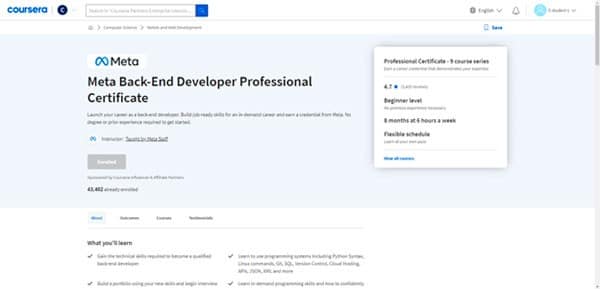 The Meta Back-End Developer program equips you with the foundational skills for entry-level back-end development roles. It covers day-to-day tasks in back-end development, including server configuration, database management, API development, and security protocols. Moreover, the program also includes end-to-end customer support, from identifying issues to advanced troubleshooting and debugging. This certificate offers a flexible learning experience that spans approximately eight months, assuming a commitment of about 8-10 hours per week. However, the program allows you to tailor your pace, enabling you to spend less time on sections you're already familiar with and allocate more time to mastering newer and more complex concepts.
Each course within the program is structured into 6-7 weeks of content, comprising video lectures, readings, quizzes, and practical Qwiklabs assignments. You have the freedom to review all the materials at your convenience, revisit topics as needed, and dive into specific sections of your choice. For example, if you already possess a strong foundation in certain areas, you can swiftly progress through them, while dedicating more time to areas that require deeper understanding.
It's worth noting that access to the entire program, including all exercises and assignments, is available only with the paid version. The pacing is designed to be manageable and suitable for most learners. However, if you're on a tight budget or wish to explore the program before making a purchase, you have the option to audit individual courses within the Professional Certificate, although this may limit your access to assignments and the certificate of completion.
Alternatives and complements to this Certificate
In addition to the Meta Back-End Developer Professional Certificate, there are several alternatives and complementary resources that individuals interested in back-end development can consider to further enhance their skills and knowledge. One alternative is of course pursuing a traditional computer science degree, which provides in-depth theoretical knowledge and a broader understanding of computer science principles. While more time-consuming and costly, a degree offers a comprehensive education that can be highly valuable in the long run.
For those seeking more specialized training, online coding bootcamps (such as Springboard's Software Engineering Bootcamp) are an excellent option. These intensive programs typically offer shorter timeframes, often ranging from 8 to 16 weeks, and provide a concentrated and practical curriculum designed to prepare students for immediate entry into the job market. However, these bootcamps tend to be much more expensive.
Additionally, individuals can complement their learning with free or low-cost online resources such as coding tutorials, forums, and documentation specific to back-end development technologies and frameworks like Django, Node.js, or Ruby on Rails. Online coding platforms like GitHub and Stack Overflow offer a wealth of practical knowledge-sharing and problem-solving opportunities.
Participating in open-source projects and collaborating with experienced developers can also be invaluable. This not only provides hands-on experience but also helps build a professional network within the back-end development community.
Ultimately, the choice of alternative or complementary resources depends on individual preferences, goals, and constraints. Combining formal education, specialized training, and self-directed learning can create a well-rounded foundation for a successful career in back-end development.
The Meta Back-End Developer Professional Certificate is an 8-month, beginner-friendly program hosted on Coursera. It's designed to be versatile, accommodating learners from various backgrounds. While no prior coding experience is required for enrollment, those with a foundational understanding of programming can also benefit from the course's more advanced modules. It aims to be both inclusive and flexible, designed to cater to a diverse learner base with varying degrees of expertise.
The program is self-paced, offering you the latitude to tailor your learning schedule to fit your individual needs. This feature is particularly advantageous for beginners who may require additional time to understand the basics, as well as for those with some prior experience who wish to delve into more specialized topics.
While the program itself doesn't mandate specific prerequisites, a basic grasp of programming concepts and web development fundamentals is generally advisable. Familiarity with languages like HTML, CSS, and JavaScript can serve as a valuable foundation for diving into back-end development.
How much does the Professional Certificate cost?
The Meta Back-End Developer Professional Certificate offers flexible enrollment options. You can choose to pay for each course individually. However, if you're looking for a budget-friendly approach, I would recommend you to opt for the Coursera Plus subscription, which can cost you $59 per month. This will allow you access to a vast selection of Coursera courses. With the recommended 8-month completion time for this particular certification, this adds up to $472. Given this cost for paying month-to-month, you would be much better off paying for the annual subscription of Coursera Plus, priced at $399. This would also allow you to follow supplemental courses on Coursera for a few months after finishing the program.
Since the program allows for self-paced learning, you have the flexibility to accelerate your progress, if you're on a tight budget and want to save money.  Additionally, auditing individual courses within the certificate is an option that allows you to access course materials for free, making learning accessible without financial commitments.
Is the Meta Back-End Developer Professional Certificate worth the money?
When it comes to investing in your education, especially in a field as dynamic as back-end development, the question of value for money is paramount. The Meta Back-End Developer Professional Certificate on Coursera is an investment, both in terms of time and finances. So, is it worth it?
Firstly, the program comes with the credibility of Meta, the parent company of Facebook. This is not just a stamp of approval; it's an indicator that the course content is likely to be current, relevant, and respected in the industry.
Secondly, the structure of the course is comprehensive, covering essential skills like Python, Linux commands, Git, and SQL. If you're starting from scratch, the program promises to take you to a job-ready level. However, it's worth noting that some prior knowledge of JavaScript and HTML is recommended, so you may need to invest in learning these separately if you're a complete beginner.
A standout feature is the exclusive access to the Meta Career Programs Job Board. This platform connects graduates with over 200 employers, a significant advantage in the competitive job market. Additionally, the program includes coding interview preparation and career support, which could otherwise cost you both time and money to obtain separately.
However, it's essential to consider the cost of the program in relation to your budget and compare it with other available options. While Coursera does offer financial aid or free trials for some courses, this professional certificate is a premium offering.
All things considered, if you're serious about a career in back-end development and are looking for a program that offers current, industry-relevant education along with unique career opportunities, the Meta Back-End Developer Professional Certificate could very well be a worthwhile investment. But as with any financial decision, it's crucial to weigh the benefits against the costs to determine if it aligns with your career goals and financial situation.
The Meta Back-End Developer Professional Certificate is designed and developed by Meta. The instructors are skilled professionals in back-end development and software engineering, currently serving in roles at Meta that span operations, systems administration, security, and site reliability engineering.
Detailed review of the courses
The certification includes the following 9 courses:
Introduction to Back-End Development
Programming in Python
Version Control
Databases for Back-End Development
Django Web Framework
APIs
The Full Stack
Back-End Developer Capstone
Coding Interview Preparation
Every course is segmented into six to seven-week modules, each featuring its own set of videos, reading materials, and quizzes. However, the deadlines are flexible, allowing you to progress through the material at a speed that suits you. Now let us take a more in-depth look at each course content and what it is about.
Course 1: Introduction to Back-End Development
Starting off strong with the first course of the Meta Back-End Developer Professional Certificate, the "Introduction to Back-End Development" offers learners an entry point into the world of back-end development, an integral aspect of software engineering.
This particular course serves as a suitable starting point for individuals interested in exploring back-end development by offering a structured introduction and encouraging interaction among learners. However, those seeking in-depth, hands-on experience or advanced content may need to supplement their learning with additional resources. The course represents good value for beginners looking to gain foundational knowledge in back-end development.
This first course series serves as a foundational stepping stone for learners aiming to delve into the world of back-end development. Throughout this course, students can expect to achieve several key goals. Firstly, they will gain a comprehensive understanding of the back-end developer role, exploring its responsibilities and significance in software engineering. Secondly, the course delves into the core technologies that underpin the internet, offering insights into the intricate workings of online systems. Learners will also acquire practical skills, such as creating a basic webpage using HTML and mastering the art of controlling its appearance with CSS. Furthermore, the course introduces students to React, a vital tool in modern web development, and elucidates the applications and distinctive features of popular UI frameworks, paving the way for a well-rounded grasp of front-end and back-end development dynamics.
Course 2: Programming in Python
The second course of the certification focuses on several key objectives. Firstly, it aims to provide learners with a fundamental understanding of programming with Python, emphasizing core concepts and syntax. Secondly, the course searches into various programming paradigms, offering insights into different approaches to problem-solving and coding practices. Lastly, it explores the practical aspects of Python development, covering modules, packages, libraries, and tools that are essential for building Python-based applications. These goals collectively aim to equip learners with a strong foundation in Python programming, enabling them to apply this knowledge effectively in back-end development scenarios.
The "Programming in Python" course serves as a crucial stepping stone for learners seeking proficiency in Python programming. The course successfully achieves its goals by delivering a structured and comprehensive curriculum. It provides a clear and concise introduction to Python, making it accessible even to those with limited programming experience. The exploration of various programming paradigms enhances learners' understanding of Python's versatility.
Furthermore, the course's coverage of modules, packages, libraries, and tools equips learners with essential skills for efficient and modular programming. However, it's important to note that this course primarily focuses on Python fundamentals, which may leave those with prior Python experience seeking more advanced content. Nevertheless, for beginners and individuals aiming to build a strong Python foundation, this course is a valuable resource. Its clear instruction and practical examples make it a worthwhile addition to the META Back-End Development Professional Certificate program.
Course 3: Version Control
The third course which focuses on Version Control, learners can expect to achieve several key learning goals. Firstly, the course aims to equip students with the skills needed to effectively implement Version Control systems, emphasizing practical utilization. Additionally, learners will gain proficiency in navigating and configuring software using the command line, a fundamental skill in back-end development. Another significant objective of the course is to impart knowledge on efficiently managing code revisions, ensuring organized and collaborative development processes. Lastly, students will learn how to create and utilize a GitHub repository, a vital tool for collaborative software development.
Additionally, the course exposed me to entirely new ideas, prompting a range of questions and challenges. I found the discussion forum to be an indispensable tool during these times. If you run into issues with assessments or any other aspect of the course, I highly recommend consulting the Discussion Forum. The Resources section is also quite useful, offering a curated list of FAQs, valuable links, and external materials that can deepen your grasp of the subject matter from various perspectives.
Now, transitioning to a neutral review of this course, it's important to note that this is not an extensive course, but it does cover essential aspects of Version Control. The course provides instruction on using the command line and Git at a satisfactory level. However, some learners may find that the examples used could be more diverse or elaborate. Nevertheless, with careful observation and practice, the existing examples can serve their purpose. Overall, this course is a suitable starting point for those looking to grasp the basics of Version Control in back-end development, offering a foundational understanding of key concepts and practical skills.
Course 4: Introduction to Databases for Back-End Development
The fourth course, "Introduction to Databases for Back-End Development," aims to teach learners the fundamentals of SQL (Structured Query Language). This course is accessible to individuals with no prior coding or database experience, emphasizing enthusiasm for coding as a prerequisite.
Throughout the course, learners explore SQL data types, SQL operators for sorting and filtering data, and basic database design concepts. The emphasis is on practical exercises to apply SQL knowledge effectively. However, it lacks coverage of NoSQL databases like MongoDB, and the final evaluation has reported bugs. Learners have also suggested clearer instructions.
Overall, the course is suitable for beginners eager to start coding and learn SQL basics but could benefit from improvements in instruction clarity and inclusion of NoSQL concepts.
Course 5: Django Web Framework
This Meta course offers valuable insights and practical knowledge in the scope of web development. Its strongest feature undoubtedly lies in the projects, which provide an excellent platform for learners to delve into the intricacies of web development. These projects facilitate extensive practice, allowing individuals to solidify their understanding of concepts and techniques.
Before enrolling in the course, you are recommended to complete its prerequisites in HTML, CSS, Python and MySQL.
The course maintains a commendable level of informativeness, offering clear explanations of how and why specific functionalities are employed within the Django framework. However, there is room for enhancement by incorporating more advanced and dynamic functionalities, which could further elevate the learning experience.
From a foundational standpoint, the course effectively covers the essentials of web development with Django. Learners are equipped with the necessary knowledge and skills to design web applications, understand the HTTP request-response cycle, create data models, and harness the Django Template Language. Additionally, the emphasis on adhering to industry best practices during application deployment and testing is commendable.
Therefore, the Django Web Framework course is a valuable component particularly for individuals seeking practical experience in web development. While it offers a solid foundation, further complexity and dynamism could enhance its overall effectiveness. Nonetheless, for those looking to grasp the fundamentals of Django web development, this course proves to be a worthwhile endeavor.
The sixth course in the META Back-End Developer Professional Certificate focuses on APIs, with specific learning objectives that include understanding REST APIs, gaining proficiency in Django REST framework, and advancing skills in API development. The goal is to equip learners with a solid foundation in API concepts, enabling them to create and manage RESTful APIs effectively. However, it's important to note that this course is considered by some as the most challenging within the specialization. It introduces demanding multiple-choice quizzes and a particularly tough final project. To succeed, it's crucial to dedicate time to weekly study and ensure complete comprehension of each part of the course, as this knowledge is vital for the final project's successful completion.
This course centered on APIs, presents a considerable challenge compared to its predecessors. While the earlier five courses were relatively straightforward, this one stands out for its demanding multiple-choice quizzes and a particularly tough final project. To navigate this course successfully, learners must commit to diligent weekly study and ensure a thorough grasp of every aspect covered. Understanding each part of the course material is critical, especially considering its significance in the final project. While this course may pose a formidable test of knowledge and skills, it also offers a valuable opportunity for learners to deepen their understanding of REST APIs, Django REST framework, and advanced API development, ultimately enhancing their capabilities in the field of back-end development.
The Full Stack is another amazing course included in the Back-end professional certification, offering learners an ambitious approach to comprehensive full-stack development. It effectively introduces learners to the intricacies of working on both front-end and back-end aspects of web applications. However, there are notable concerns regarding the quizzes within the course. Some learners have found that the quizzes reference material is not adequately covered in the course videos and readings, creating a disconnect between the assessment and the content. While the programming assignments are manageable, the quizzes pose challenges due to this inconsistency. Nevertheless, the course's attempt to enhance learners' well-rounded development skills is commendable, and it contributes positively to the overall professional certificate program.
Course 8: Back-End Developer Capstone
This capstone course primarily focuses on building a capstone project in Django, specifically the creation of an API for the Little Lemon restaurant using the Django REST Framework. The core objectives encompass demonstrating the application of various skills acquired throughout the certificate program in solving real-world problems. Additionally, each module thoughtfully includes a brief recap of previously covered content, along with relevant links to ensure a comprehensive understanding.
I genuinely appreciate the commendable effort put into delivering this course and the capstone project, especially considering potential time constraints. However, it's worth noting that there are some aspects that may benefit from improvement. For instance, the deliverables, particularly quizzes and exercises, appear to contain errors. Addressing these issues would enhance the overall learning experience. Additionally, it's essential to acknowledge that this course can be time-consuming and may require careful time management to complete successfully. Nonetheless, the course aligns well with its objective of applying acquired skills to real-world scenarios, offering valuable practical experience in Django and API development.
Course 9: Coding Interview Preparation
The last and final course included in the Meta Back-End Developer Professional Certificate is all about coding interview preparations. To take this course, you should understand the basics of computer programming and development. Additionally, it always helps to have a can-do attitude!
One of the strengths of this course is its structured approach to interview preparation. It provides a solid foundation in data structures and algorithms, which are crucial for problem-solving during interviews. The course content is well-organized and presented in a clear, understandable manner and, most importantly, covers a range of essential topics, including the coding interview process, data structures, and algorithms.
Moreover, my completion has been instrumental in enhancing my interview readiness. These concepts are invaluable for tackling interviews effectively, both online and offline. The practical application of these concepts in coding interviews is emphasized, which I found particularly helpful. It's not just about theoretical knowledge; this course helps learners develop problem-solving skills that are essential for interviews. Overall, I consider this course a valuable addition to the Meta Professional Certification. It equips learners with the skills needed to confidently face coding interviews and has significantly contributed to my understanding of data structures and algorithms, particularly in the context of interview preparation.
Feedback from students enrolled in the Back-End Developer Professional Certificate program on Coursera is overwhelmingly positive. Participants commend the program for its hands-on projects, immersive teaching style, and thorough coverage of back-end development fundamentals. While some note the program's challenging aspects, particularly for beginners, they also call for more in-depth explanations.
Concerns have been raised about unclear questions and vague instructions in quizzes for the more advanced courses. However, such issues are somewhat expected given the complexity of the later material. Reviews from external platforms like Indeed, Quora, and Reddit largely mirror these views, praising the program's well-rounded curriculum and practical focus. Despite acknowledging the steep learning curve and time commitment required for the final courses, the consensus is that the program's true worth lies in the valuable skills and knowledge it imparts.
Conclusion and recommendations
This wraps up our evaluation of Coursera's Meta Back-End Developer Certificate. If you're keen on mastering the art of building web applications and launching a career in back-end development, this program merits your attention.
The Back-End Developer Professional Certificate program is highly relevant to current industry needs, focusing on key areas like cloud computing, system administration, and wireless networking. In today's tech-driven world, these skills are essential for improving workflow and implementing automation.
It is designed for ease of navigation, featuring intuitive instructions and an array of supplementary materials. Its online, self-paced format offers you the freedom to engage with the content on your own terms, devoid of stringent deadlines. Although the course doesn't incorporate conventional exams, it does include practical assessments and quizzes. Should you find a specific module challenging, you have the option to review other students' work for insights, allowing you to fine-tune your own strategies. While beginners may face challenges, particularly in areas like security and infrastructure, these can be overcome with dedication and the right resources.
The program gains added credibility from its association with leading tech companies like Google, Meta, Amazon, and IBM, enhancing its global recognition. Graduates often report positive career impacts within six months, including job placements, skill development, career advancement, and salary increases.
The Meta certificate is geared towards those who are either job-hunting in the tech sector or wish to expand their back-end development skills. The program is especially advantageous if you already have a foundational understanding of coding or experience in back-end development, as this will enable you to extract maximum value from the course. There are multiple pathways to secure the Meta certificate, making it essential to choose an approach that best suits your individual needs and time constraints. If feasible, aim to exceed the program's basic requirements to fully leverage the educational opportunities it provides.