The allure of entrepreneurship is evident. Only 35% of professionals report being enthusiastic about their job, and a whopping 96% of entrepreneurs report no desire to return back to a standard 9-to-5 job. There can be many reasons for this: feeling under- or overqualified, mind-numbing job tasks, constantly nagging bosses…
What's certain is that these numbers give us a clear picture: entrepreneurship is on the rise. 
Becoming an entrepreneur is easier than ever before and the rate of newly registered businesses is higher than it has been in decades. The harsh reality, though, is that the majority of businesses never make it past five years in business. Again, there are many potential reasons for this: bad management, poor marketing, a lack of planning and capital.
The business world is cutthroat, and to make it there you need to be taught by the best. Not by one of those fake entrepreneurs from TikTok, but by world-renowned professors from Wharton, Harvard, and Yale. 
In this list, we'll go over the best online courses that offer just that: knowledge from the world's top business minds, packed into online syllabi that are comprehensive, easy-to-follow, and reliable. There's your recipe for success.
These are the top ten best online business courses for 2021:
Business Foundations (Wharton School)
A comprehensive online Ivy League business class for learning all the fundamentals of the business world.
"Business Foundations" from Wharton is our pick for the best online business course of 2021, and also for the #1 online Ivy League course. It is a 6-part online course aimed at students looking to get an in-depth introduction to the world of business and finance.
The class is led by the academic rockstars of Wharton, featuring the likes of Jagmohan Raju, Barbara E. Kahn, and Brian Bushee.
This online business class contains expert-led lessons on financial accounting, human capital management, corporate finance, operations management, and more. In a nutshell, everything needed to orient in the ever-changing modern landscape of business and finance.
As with all the Coursera specializations, students have to complete a capstone project to get across the finish line. In this project, students will be asked to test their analytical skills in the real world.
They will do so by thoughtfully evaluating business data from Wharton-governed companies like SnapDeal and Shazam.
The benefits of enrolling in a course led by Wharton are tangible. Looking at the statistics, we see that Wharton MBAs can expect to earn over $211,000 in annual salary three years after graduation.
Keep in mind that a Coursera Plus subscription (Coursera's subscription plan) will get you access to this Ivy League class for $59/month compared to the single course price of $79/month. This is a more than solid investment for anyone starting out in entrepreneurship!
Business Analytics Nanodegree (Udacity)
An intense 3-month course on data skills for business.
According to estimates by Forbes, more than 150 trillion gigabytes of data will need analysis by 2025. Looking at these numbers, it becomes easy to see where the term "BIG data" came from.
In 2021, virtually every sector uses big data to make big business decisions. And, the importance of data shows no signs of slowing down. It is no wonder, then, that there is a massive demand for skilled business analysts. In fact, according to LinkedIn, data scientist was THE most promising job of 2019 in the US. And, things are no different in 2021.
One of the most viable ways of gaining foundational data skills is completing an online course. The 3-month Udacity nanodegree on business analytics is delivered in collaboration with Tableau and Mode Analytics.
The course comes with no prerequisites and covers the following foundational data skills:
Introduction to data – Communicating insights via statistics and visuals. This program also features lessons on how to use Excel to manipulate, visualize, and analyze data in a spreadsheet.
SQL for data analysis – An introductory course on SQL for business analysts.
Data visualization – Lessons on making data come to life using several design and visualization principles.
As per usual, Udacity also offers one of the greatest user experiences out of all currently operating MOOC sites. Combine this fact with the well-developed and beginner-friendly curriculum of this nanodegree. And, you end up with is one of the best online business courses of 2021.
Introduction to Negotiation (Yale University)
A 31-hour Yale course on business negotiation skills.
According to a survey conducted by LinkedIn, almost half of Americans feel a lack in their negotiation skills. What does this say about the worth of great negotiation skills in the modern workforce?
For one, having a set of negotiation skills in your arsenal will give you a massive competitive edge. Having an understanding of the science of negotiation will make you more confident in your workplace and improve your relationships. Most importantly, however, great negotiation skills are likely to positively impact your income level.
Negotiation has little to do with personality traits, social background, or prior experience. It is a skill not so different from something like skateboarding or sewing. The more you do it, the better you get at it. And, as with the aforementioned skills, a great instructor can be the difference between success and failure in pursuing the skill.
This brings us to "Introduction to Negotiation", a 31-hour online negotiation course led by Barry Nalebuff, a Professor of Management from Yale School of Management.
In this class, Nalebuff teaches the craft of negotiation by presenting various captivating case studies and utilizing relevant aspects of game theory. The class breaks business negotiation down to small details so that anyone can learn and apply these techniques in their professional and personal lives.
In the rapidly changing modern business climate, great communication skills are more necessary than ever. Plus, this is a course presented by the prestigious Yale University. What more could you ask for? We've also reviewed more online negotiation courses in a prior article.
Digital Marketing Nanodegree (Udacity)
An expert-led 3-month introduction to modern digital marketing.
In 2021, the global digital ad spend is expected to reach $389.29 billion. This staggering number goes to show that having an understanding of digital marketing is crucial for a business to thrive in the 2020s and beyond. This goes both for massive corporations and small family-owned businesses.
The digital marketing nanodegree from Udacity is led by a trinity of digital marketing superstars. Anke Audenaert (former Market Research lead at Yahoo!), Daniel Kob (digital media entrepreneur, Stanford MBA), and Julia Aspinal (a notable marketer and web developer with experience in companies such as Scholastic).
The 3-month online course comes with no prerequisites and will give students an introduction to modern digital marketing cornerstones.
Step-by-step, you will start by learning how to create high-quality content curated directly for your target audience. In 2020, award-winning digital marketer Laurie Wang emphasized the importance of high-quality content and brand awareness. In this article from The Guardian, she urged companies to consider pivoting their advertising spend from sales to brand awareness.
In addition to content creation, the Udacity digital marketing nanodegree also covers the other major aspects of digital marketing. These include but are not limited to social media marketing, SEO, display advertising, and email marketing.
In conclusion, this is a must-take course for anyone looking to navigate the nuts and bolts of digital marketing: one of the most in-demand skills to learn online.
SBA Learning Center Courses (U.S. Small Business Administration)
A free collection of lessons for small business owners.
In the United States, a small business is defined as a firm that has less than 500 employees in its ranks. This statistic means that there are 30.7 million small businesses operating in the United States. A staggering 99.9% of all enterprises of the US easily fall into this category. This means that some of the world's most successful start-ups and venture capital firms are considered "small businesses" by definition.
With this interesting fact in mind, let's look at the "Learning Center" from the U.S. Small Business Administration. It is a free online business course aimed at starting entrepreneurs. Sure, this class is not as flashy or as in-depth as some other business classes on this list. But, for someone looking to quickly learn all the major aspects of entrepreneurship in the US, this course is a great option.
The structure of the class is chronological, taking students from the very basics such as writing a business plan to grow your already existing business. Along the way, you will also get a look into the many legal aspects of launching and running a business in the US.
Admittedly, the class is a bit US-centric at times. It is presented by The US Small Business Administration, after all. Still, approximately 70% of the ideas and tips presented are common business knowledge that is useful for any modern enterprise, regardless of the geographic location.
All in all, for anyone looking for a quick, beginner-friendly (not to mention, free!), and well-structured business course, "Learning Center" is an option worth considering.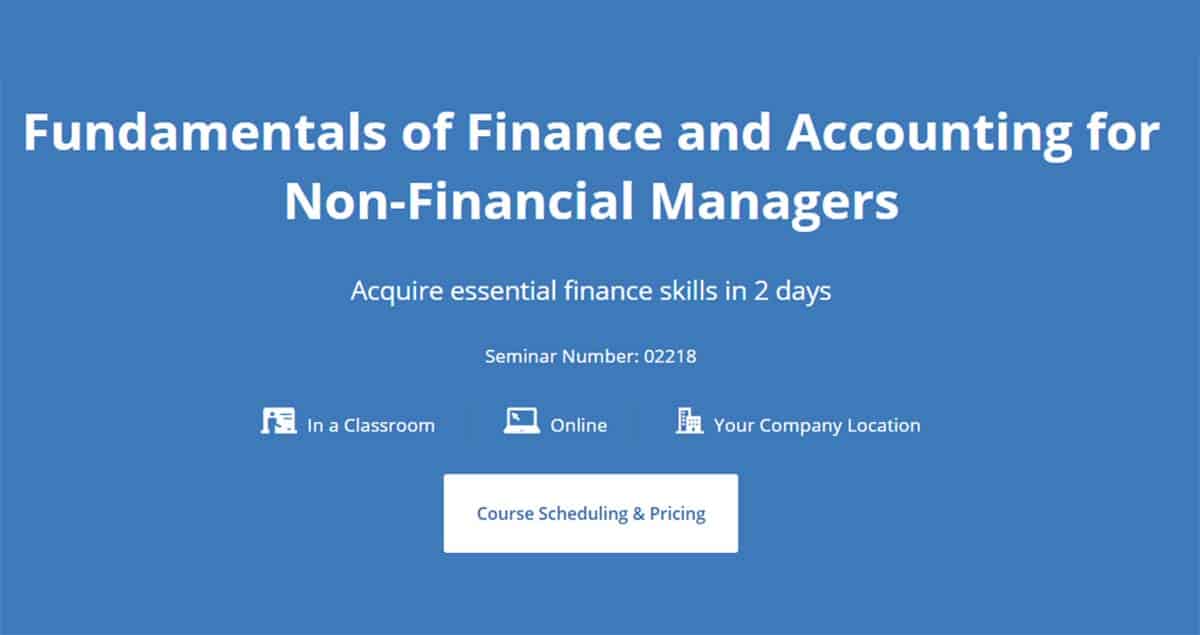 Fundamentals of Finance and Accounting for Non-Financial Managers (AMA)
An introductory 2-day finance and accounting course for non-financial managers.
Next up, we are looking at an introductory finance and accounting class from American Management Association. AMA is a nonprofit, membership-based association that provides a wide range of management development services both to individuals and organizations.
Many of us struggle to understand even the basics of accounting, finance, and the economy in general. It is perhaps for this reason that The US has a major financial literacy problem.
One might find a way to deal with numbers as little as possible in their private life, but when you reach a certain point in your career, it becomes next to impossible to avoid balance sheets and income statements.
AMA has put together a 2-day crash course aimed at non-financial managers looking to get a grasp on the numbers side of their job. While a 2-day online business course is not enough to make the finance department of your organization irrelevant, it is enough to make you financially literate. Simply put, you can take confidently take part in discussions on the financial health of the organization. Something that is essential for anyone in a managerial position, whether they are directly responsible for finances or not.
Admittedly, the course is rather pricey. But, for someone looking to quickly shell shock themselves into understanding the financial workings of an organization, this online business course offers a great opportunity.
The essence of this class is perhaps best worded by AMA itself – "One does not get to this point in a career only to be held back by weak financial skills."
CORe Program (Harvard Business School)
A comprehensive Harvard-led course on the essentials of modern business and finance.
In the Global MBA Rankings for business schools in 2020, Harvard Business School was ranked as #1, outperforming the likes of Stanford and Yale.
Even a quick glance at the alumni list of Harvard Business School shows just how influential this prestigious school has been on western culture.
George W. Bush, Mitt Romney, and even Tyra Banks have graduated from Harvard. It is up to debate whether Tyra Banks and George W. Bush should ever belong in the same sentence. But, one thing can't be argued. Both of these individuals have a superb knack for understanding modern business.
The Credential of Readiness (CORe) program from Harvard is an online business class consisting of three separate courses – Business Analytics, Economics for Managers, and Financial Accounting. It is a rigorous 17-week course designed to get its graduates speaking the language of business in the 21st Century.
The CORe program from Harvard allows students to get access to Ivy League education on their own terms. The course is self-paced, save for the weekly deadlines that need to be met.
After going through all the modules and successfully completing all the assessments, the course concludes with a three-hour exam. This online exam can be taken at a time suitable for each individual student.
The Harvard experience alone is sufficient to make this business class a worthy investment. But, for students in need of a practical and clear motivator, this class offers another treat worthy of mention. The course comes with an undergraduate credit option through Harvard Extension School.
Finishing the class successfully can grant you 8 undergraduate credits from Harvard. And, considering that Harvard has the best economics department in the world, these credits should make for quite a motivator. You do, however, need to pay extra to get these undergraduate credits.
Introduction to Financial and Managerial Accounting (MIT)
A collection of free practical and theoretical resources on the fundamentals of finance.
Next, we have "Introduction to Financial and Managerial Accounting" from the Massachusetts Institute of Technology.
It is yet another online business class from a highly prestigious university. Among individuals affiliates with MIT (researchers, alumni, faculty members), we can find a whopping 97 Nobel laureates, 26 Turing Award winners, and 8 Field Medalists.
The course is intended for managers looking to learn the fundamentals of financial and managerial reporting. The viewpoint in the course is that of the person reading and interpreting financial statements, NOT preparing them.
Thus, the course acquires no specific prerequisites other than a willingness to learn and work hard.
In "Introduction to Financial and Managerial Accounting" you will also find a generous amount of free content. You get access to exams, assignments, and lecture notes used in all previous semesters.
Admittedly, the resources have not been updated since 2004, so some of the materials might be slightly outdated. Still, for someone looking to pursue finance in-depth, it is a good way of getting a free glimpse of how business is taught in a top-ranking university. We've also put together a list of the best online accounting courses for those interested in exploring this topic further.
Corporate Finance (Columbia University)
A 3-month financial analysis class from Columbia University.
"Corporate Finance" from Columbia University is a 3-month business course that consists of three modules. These being "Introduction to Corporate Finance", "Free Cash Flow Analysis", and "Risk & Return".
The course is led by Daniel Wolfenzon, the esteemed Professor of Finance & Economics from Columbia Business School.
The class takes students through both the practical and theoretical fundamentals of corporate finance. Theoretical parts are focused on topics such as evaluating investment opportunities (incl. stock and bond evaluation), computing and projecting free cash flows, and measuring the risk & return of equity & debt.
Meanwhile, the practical parts of the class are focused on the business environments at which the aforementioned principles are put into action.
Columbia University is one of the eight original Ivy League schools. And, the establishment consistently ranks as one of the top universities in the world.
Among its graduate list, we will find some of the most celebrated bright minds in the world. Neil DeGrasse Tyson, Warren Buffett, and Jack Kerouac are only some examples of celebrated public intellectuals that have graduated from Columbia.
All things considered, learning financial analytics from one of the world's most prestigious universities is too good to pass for anyone interested in economics and finance.
MBA Core Curriculum (University of Maryland)
A lengthy all-around business class from The University of Maryland.
With a duration of 1-year (8-10 hours per week), the "MBA Core Curriculum" from edX and University of Maryland is the longest business class on this list.
That being said, it is also the most comprehensive, covering a very wide array of topics related to finance, business, accounting, and economics.
The class is led by notable economics and finance scholars from Maryland University. These tutors include the likes of Ritu Agarwal, Gilad Chen, and Trevor Foulk.
Not only are all the tutors of this class knowledgeable about topics taught, but they are also engaging. According to data, 89% of students of the University of Maryland say that their professors are passionate about the topics they teach.
How about the syllabus?
Simply put, this class is an eye-opener to aspiring entrepreneurs. It takes students from the drawing board (formulating a business idea, developing a sustainable marketing strategy, etc.) to professionally communicating financial information to potential investors, creditors, shareholders, and regulators.
Along the way, students also learn about business leadership, accounting, and data analysis.
It is a comprehensive and rigorous class. But, for someone willing to invest a considerable amount of time and care into their business education, it is one of the best online business classes available in 2022.